McAfee is a well-known company when it comes to computer security. This company provides digital security according to everyone's needs and gives full security solutions to its customers. McAfee's Live safe and total protection are two excellent products of McAfee. The main difference between Mcafee's Livesafe and total protection is a biometric system in McAfee's Livesafe personal locker, which provides secure cloud storage for files and personal data of 1GB, while Mcafee's total protection has a password-protected vault and protects files with 128-bit encryption.
Let us take a closer look at McAfee Lifesave vs. Total Protection
| | |
| --- | --- |
| Security | Both programs provide 100% protection from all kinds of threats and viruses. |
| Price | Mcafee's Livesafe price is higher than total protection.  |
| Features | Both of the programs have the same features except the storage. |
What is McAfee Livesafe?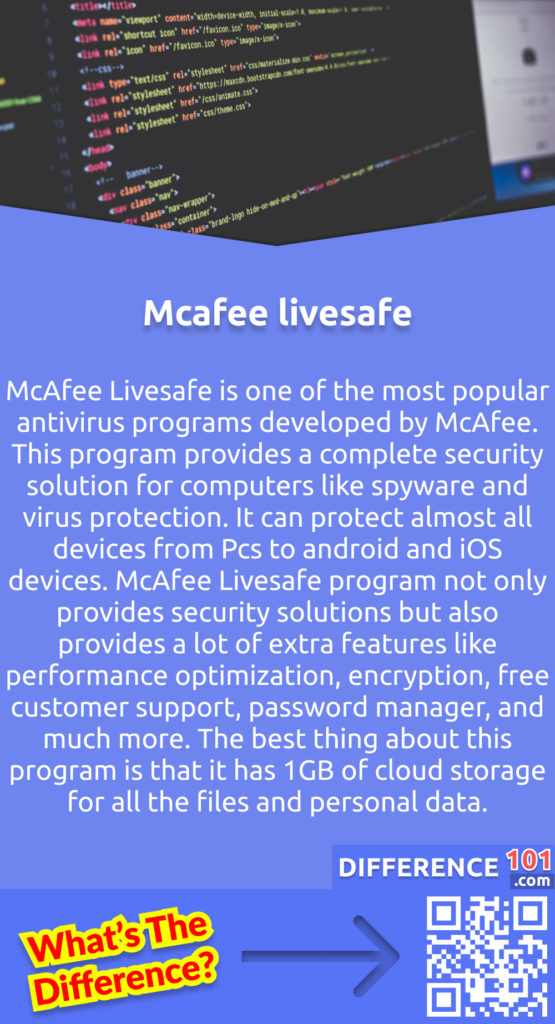 McAfee Livesafe is one of the most popular antivirus programs developed by McAfee. This program provides a complete security solution for computers like spyware and virus protection. It can protect almost all devices from Pcs to android and iOS devices. McAfee Livesafe program not only provides security solutions but also provides a lot of extra features like performance optimization, encryption, free customer support, password manager, and much more. The best thing about this program is that it has 1GB of cloud storage for all the files and personal data.
What is McAfee's Total protection?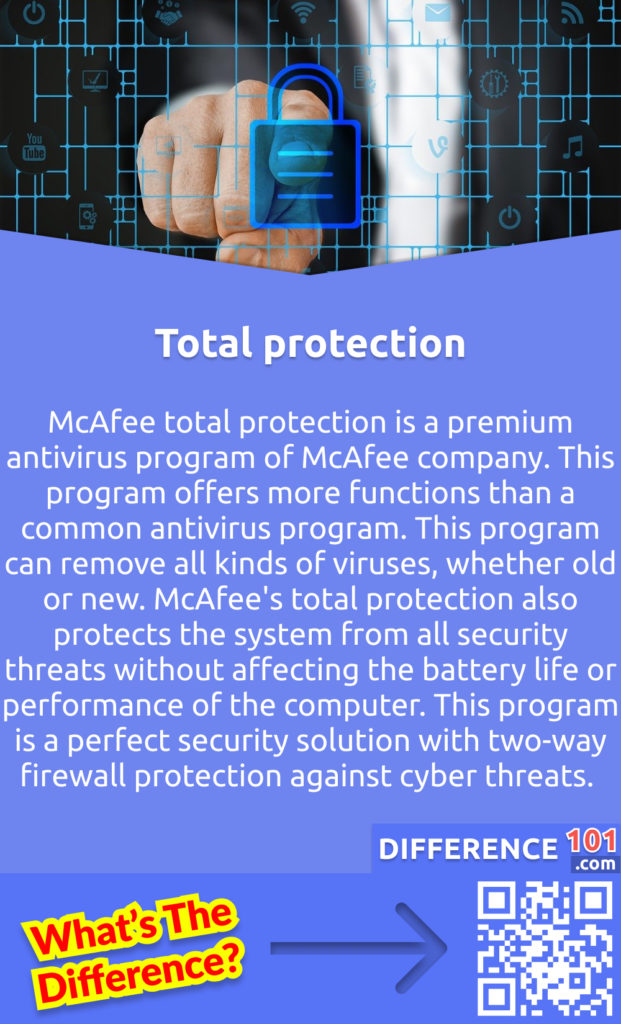 McAfee Total Protection is a premium antivirus program of McAfee company. This program offers more functions than a common antivirus program. This program can remove all kinds of viruses, whether old or new. McAfee's Total Protection also protects the system from all security threats without affecting the battery life or performance of the computer. This program is a perfect security solution with two-way firewall protection against cyber threats.
McAfee total protection vs. LifeSafe Similarities
McAfee's Total Protection and Livesafe have the same look when it comes to the dashboard. Both have a straightforward and intuitive interface.
Both of the programs offer password manager, VPN, threat protection and also provide real-time protection.
McAfee Livesafe vs. Total protection Differences
| Components | McAfee Livesafe | Total Protection |
| --- | --- | --- |
| Protection | This program provides security protection by stopping malware before downloads, stopping internet trackers, and labeling harmful sites. | It provides a unique cryptocurrency monitor, a scanner and firewall, parental control, and a password manager. |
| Cloud storage | McAfee LiveSafe has a biometric system with secure cloud storage of 1 GB for all personal data and files. | McAfee's total protection provides the protection of files with 128-bit encryption and also a password-protected vault. |
| Price | A one-year subscription to McAfee Livesafe costs almost $40. Moreover, it protects all of your devices like computers, Macs, tablets, and smartphones with all of its features. | McAfee's total protection costs more than McAfee's Livesafe. It provides some specific features at that cost.  |
| Selling points | McAfee LiveSafe provides complete security of all personal information and files with the help of secure cloud storage. | On the other hand, total protection provides an antivirus scanner and secure password for different devices with parental control to protect personal data. |
| Availability | McAfee LiveSafe is an affordable antivirus program available for systems like Macbook, Android, Windows, and iOS. | Total protection is a premium antivirus program of McAfee which has different plans like; individual, three devices, and five devices. |
Pros and cons of McAfee Livesafe vs. Total Protection
Pros and cons of McAfee Livesafe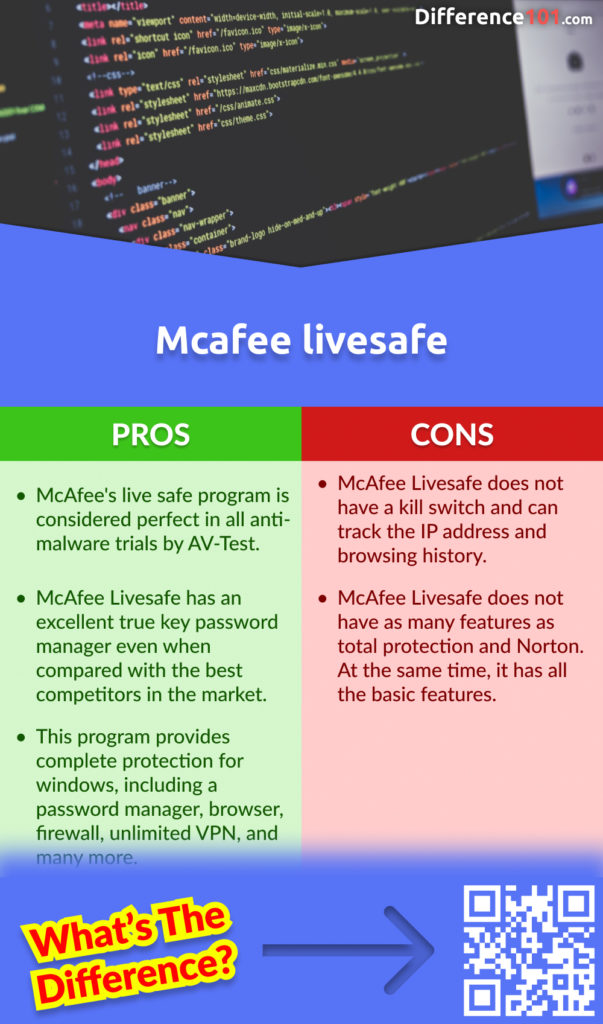 Pros of McAfee Livesafe
McAfee's live safe program is considered perfect in all anti-malware trials by AV-Test.
McAfee Livesafe has an excellent true key password manager even when compared with the best competitors in the market.
This program provides complete protection for windows, including a password manager, browser, firewall, unlimited VPN, and many more.
Cons of McAfee Livesafe
McAfee Livesafe does not have a kill switch and can track the IP address and browsing history.
McAfee Livesafe does not have as many features as total protection and Norton. At the same time, it has all the basic features.
Pros and Cons of Total protection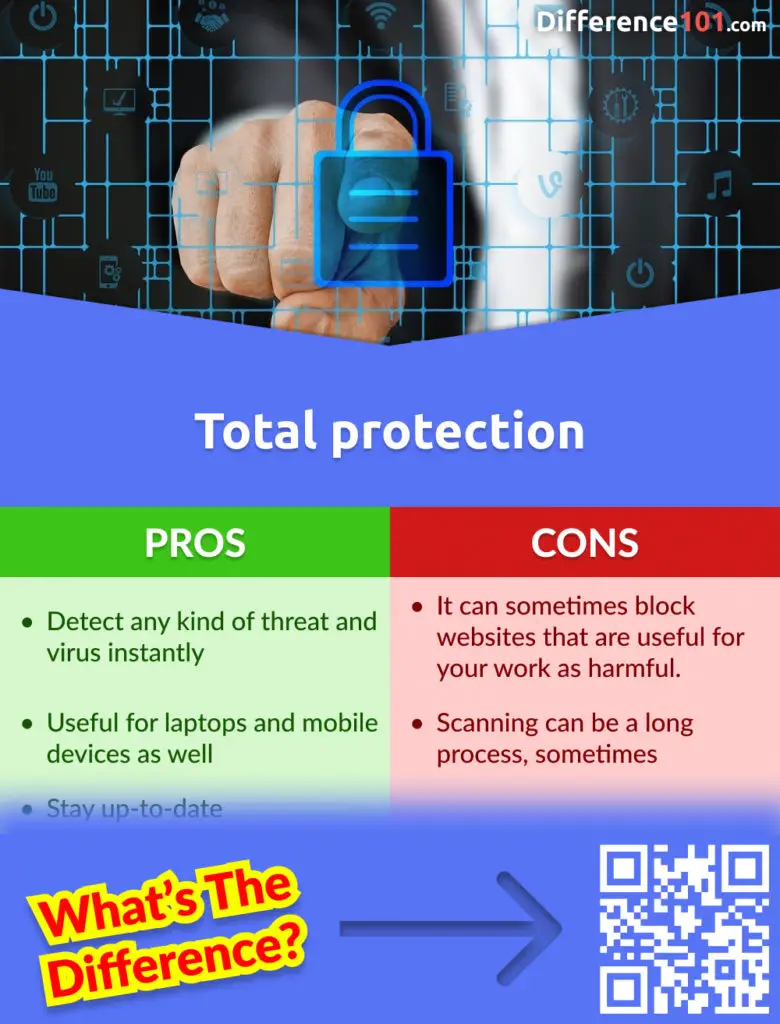 Pros of Total protection
Detect any kind of threat and virus instantly.
Useful for laptops and mobile devices as well.
Stay up-to-date.
Cons of Total protection
It can sometimes block websites that are useful for your work as harmful.
Scanning can be a long process, sometimes.
Comparison Chart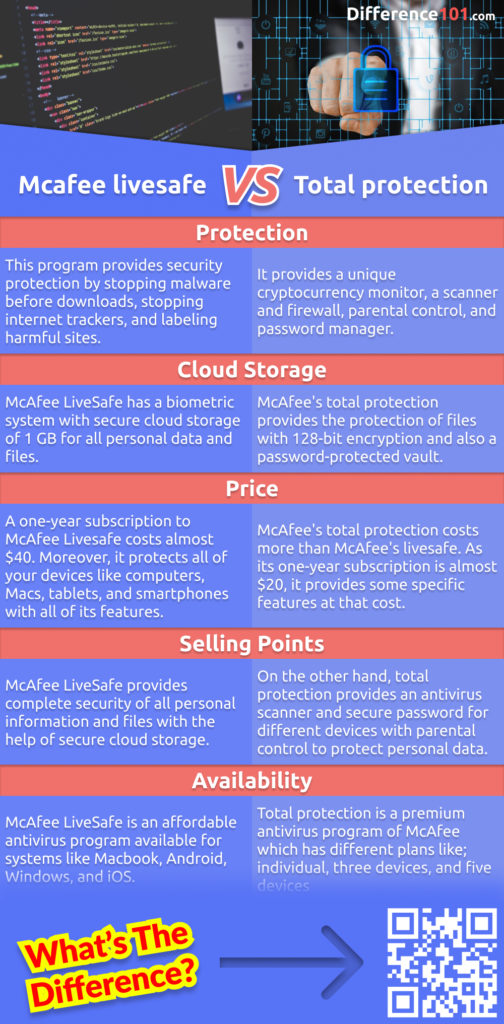 Comparison Video
McAfee livesafe vs. Total protection FAQs
Which is better than McAfee total protection vs. Is life safe?
McAfee's total protection is better than all the options available out there because of its extra protection and advanced security tools.
Is McAfee's livesafe good?
It is a good security program at an affordable price. It provides solid protection for Macs and windows, but the iOS Is quite poor.
What does McAfee live safe do?
It is an award-winning antivirus program that can provide online and offline protection from viruses, online threats, and other ransomware.
Can I switch from McAfee live safe to total protection?
Yes, but you have to go through the uninstall/install process. While buying another product from McAfee will provide another link for download.
Do I need to uninstall McAfee live safe before installing total protection?
Yes, but you have to uninstall the McAfee live safe first and then download and subscribe to McAfee Total Protection.
Conclusion
Today, we live in a digital age, and with technology and advancements, we are also becoming vulnerable to cybercrimes. Undoubtedly, the internet and the web have made our lives much easier, but it is also important to be safe from cyber-attacks. So, it is recommended that antiviruses like McAfee live safely and have total protection. There are many other options available, but we compare them like in McAfee antivirus Vs. Total protection or McAfee life safe Vs. Antivirus plus. McAfee's total protection and life safety can provide better protection due to its advanced security features.