Try Googling the question, "How can I earn money online?" or "Fiverr vs Freelancer" most of the articles you will find recommend becoming a freelancer as an effective way of earning money online. And two of the best freelancing sites that you can consider using are Fiverr and Freelancer.
The Short answer
Freelancer is the larger and more established site, is ideal for those who wish to post projects and jobs. On the other hand, Fiverr is a relatively smaller site and is recommended for those freelancers intending to offer their job skills.
Both Freelancer and Fiverr offer good freelancing services and many other advantages. Hence, when looking for affordable freelancers, choosing between these two sites may be pretty overwhelming. In this article, we discuss the main differences between Fiverr and Freelancer, such that you will be able to make a good choice. Read on!
Let's take a closer look at Fiverr vs Freelancer:
| | |
| --- | --- |
| Commissions | Both platforms charge commissions |
| Beginners | Fiverr is more beginners friendly than Freelancer |
| Membership | Fiverr has Free membership plan, whereas Freelancer has different Paid plans |
| Security | The platforms have advanced security and fraud systems in place |
What is Fiverr?
The Fiverr platform allows freelancers to market their skills and advertise themselves to potential clients. Freelancers usually specify their skills and advertise only those jobs that they would be capable of undertaking. 
Before clients can hire a freelancer, they first search through different jobs, called "gigs"  to find the most suitable freelancers. Unlike Freelancer, the Fiverr freelancer site is ideal for smaller jobs and projects "gigs", such as making flyer designs and logos. In fact, you can get services for as low as $5 in Fiverr International.
The Most Complete Fiverr Guide & Review
Read our most complete
Fiverr Guide & Review
with a ton of information, tips, and advice that you didn't know before.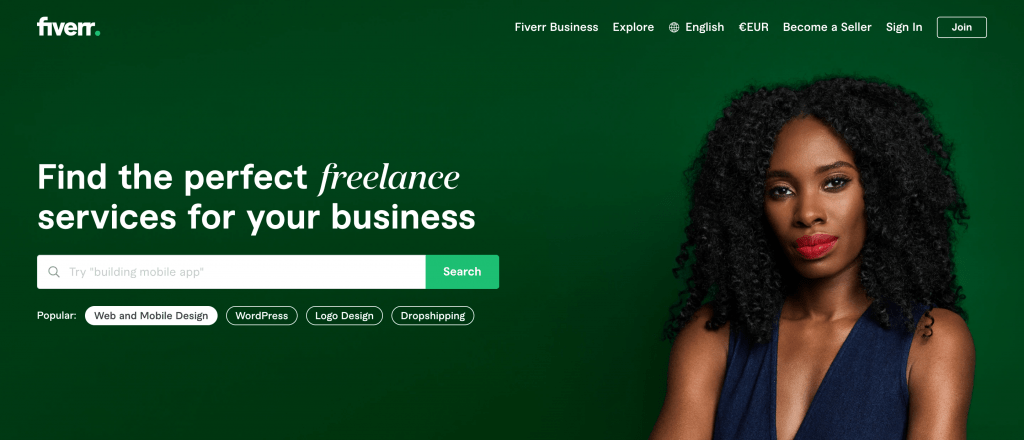 Fiverr Pros & Cons
Pros of Fiverr
Jobs and projects posted in the platform are usually completed fast.
You can get high-quality services for less money.
Buying services (or gigs) is faster and easier.
The site has almost many categories and subcategories that you would need.
Since each seller's profile consists of their star ratings, you can always choose the best freelancers (sellers).
Cons of Fiverr
Buyers have the option of canceling projects, even after the sellers have already submitted these.
Some sellers deliver jobs of low quality.
Fiverr Affiliate Program
Fiverr has a great affiliate program that is one of the best affiliate programs on the market now. It offers pretty high commissions compared to others, so you can double or even triple your income on the Fiverr because you may get for every first-time buyer $150 CPA or up to $1,000 per sale with their hybrid model $10 CPA/10% revenue share.
What is Freelancer?
In Freelancer, clients are allowed to post their jobs and projects, all for free. The Freelancer platform is ideal for larger and more complex jobs/projects. Upon posting their job projects, the clients have two options:
They can make their job projects open and invite different freelancers to bid on them.
They can visit different freelancer profiles themselves, looking for freelancers who meet their exact requirements. If they find such a freelancer, the clients can then make an offer.
When clients make their jobs open for all freelancers, they can get freelancers with the lowest rates. On the other hand, when clients decide to look for freelancers themselves, they can choose freelancers with the best quote and skills for the job. However, the downside is that such freelancers with the best quote and skills have higher rates.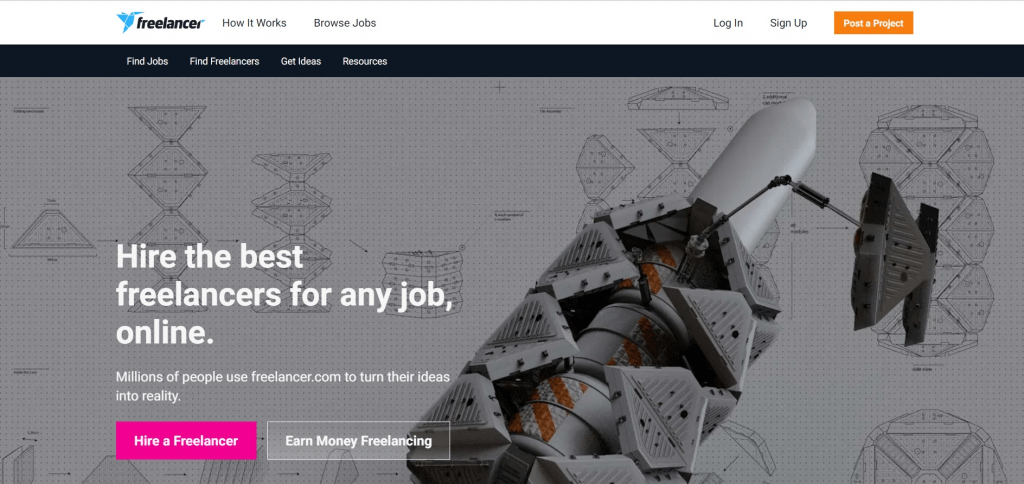 Freelancer Pros & Cons
Pros of Freelancer
When clients post projects and jobs, they usually get bidders within minutes.
The website provides a high-quality communication channel – clients and the hired freelancers can share files, collaborate and chat easily.
Clients on Freelancer only pay when the job is done, and the requirements are fully completed.
Freelancer allows clients and freelancers to break down bigger and complex projects into smaller ones.
The security and safety of all payments are guaranteed.
Freelancer provides high-quality customer support 24/7.
Cons  of Freelancer
Most users complain of many technical problems with the website.
Some clients have also encountered issues with billing.
Some freelancers have complained about missing money and milestones.
6 Key Differences Between Fiverr and Freelancer
The comparison chart below provides a summary of the 6 major differences between Fiverr and Freelancer:
| Basis | Fiverr | Freelancer |
| --- | --- | --- |
| How it works | Clients are browsing different gigs and some seller profiles to choose from these. | Clients are recommended to post jobs and let the freelancers bid on them |
| Interface quality | Very simple and user-friendly interface for browsing gigs. | Less user-friendly interface for browsing jobs and projects |
| Verification method | Fiverr may request an ID verification also it features seller levels which are usually awarded automatically | Offers identify verification options, such as personal contact information and Facebook account. |
| Profile features | Mainly highlight jobs that the seller is able to do | Mainly focuses on the platform stats and self-reported skills of the freelancers |
| Fees | Fiverr fees include a processing fee of $1.00 for gigs up to $20 and a 5% fee for gigs greater than $20. | Freelancer fees are usually very pricey and vague. There are some plans that they offer to freelancers. Introductory: at $0.99 a month. Basic: at £4.95 a month. Plus: at $9.95 a month. Professional: from $29.95 a month. Premier: $59.95 a month |
| Dispute resolution | It has a resolution center, so it pushes clients and freelancers to solve their issues themselves and it's not possible then their support team will assist you | Offers more formal negotiations, requiring extra fees and documentation of evidence |
Fiverr vs Freelancer Comparison Chart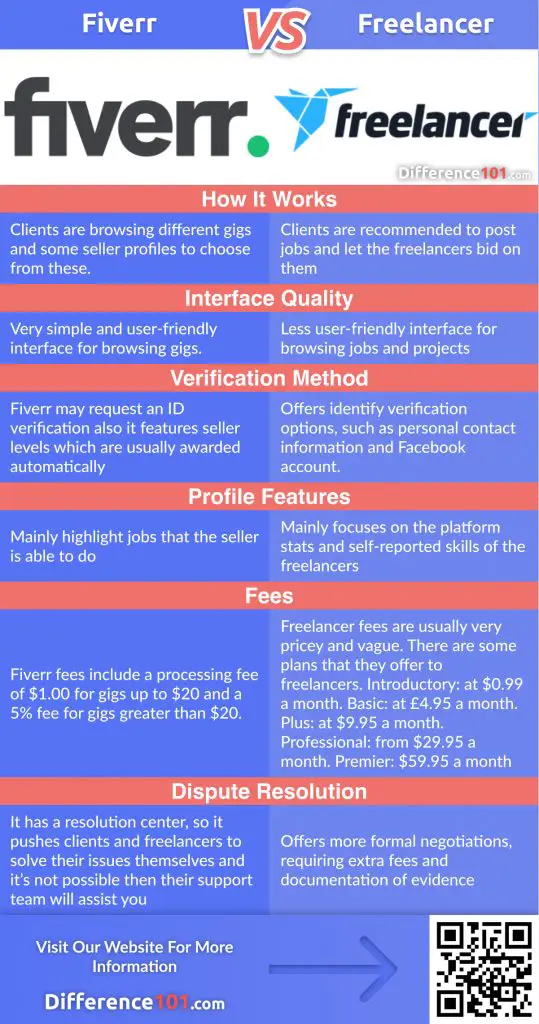 Freelancer vs Fiverr Similarities
The following are the main similarities between the Fiverr and the Freelancer site:
Both sites offer hiring and freelancing services.
In both Fiverr and Freelancer, any person can sign up and create an account.
Both freelancing platforms ask clients to review and give notes based on the service and job quality of freelancers.
Conclusion
While Freelancer and Fiverr appear pretty much the same, they are pretty different from each other. Fiverr is a much better alternative, it focuses on specific services and offers a better interface and dispute resolution center than Freelancer.com. However, if most of your projects and jobs are large and complex, you would do well to use Freelancer.com.
Comparison Video
FAQ
Which is Better Fiverr vs Freelancer?
Fiverr is a much better alternative for freelancers. It offers freelancers a platform to advertise their skills, define their gigs, and set fixed prices. More so, unlike freelancer.com, Fiverr does not feature any upcharges and additional fees other than the fixed commission fee.
How to Use Fiverr as a Freelancer?
First, you need to create an account using your email address. Then, when you are already set up, create gigs. A gig allows you to advertise your skills and job expertise. Some Fiverr gig examples include writing articles, creating websites, etc. Once you've set up gigs, buyers can then hire you and pay for your services.
How to Make Money on Fiverr Without Skills?
Even without skills, you can still create gigs and make money on Fiverr. Some of the services you can offer without any skills include branding services, digital presentation design, background removal, YouTube introduction, transcription, travel advice, or planning.
How to Get Paid on Fiverr?
To get paid on Fiverr, a client had to buy from one of your gigs. Payment is usually completed three days after you have submitted the completed job. However, the money is not available for withdraw until 14 days have passed without any buyer's complaints or disputes. Only after that, you may be able to withdraw them from the Earnings page under the Selling menu.
How Fiverr Makes Money?
Fiverr generates revenue from the service fees and transaction fees charged. Sellers usually pay a flat fee of 20% for every payment they earn. The service and transaction fees are usually based on the overall value of all transactions made through the platform. 
Is Fiverr Free?
Yes, Fiverr is free. Both buyers and sellers can use the platform for free, with the buyers only paying for the services offered. However, Fiverr cuts a 20% commission fee for all earnings that sellers make on the platform.
Is Fiverr Legit?
Yes! Fiverr is a completely legitimate platform. The numerous positive Fiverr reviews are enough proof that this platform is legit. However, since sellers do not verify their identity on Fiverr, buyers are encouraged to do thorough research and only go for those sellers who have many completed earnings and good reviews.
Is Fiverr Good for Beginners?
Fiverr is a good freelancing platform for beginners. It offers low entry barriers as compared to most other platforms. All that one is required to do is set up gigs and offer a few skills that buyers can pay for.
Is Fiverr Good for Freelancers?
Yes, Fiverr is a good marketing model for freelancers. It is free to sign up and allows freelancers to choose their preferred jobs and set their expected charges. More so, the platform does not offer any additional charges and extra fees for freelancers.
Is Fiverr Safe?
Yes, Fiverr is one of the safest and most secure freelancing platforms. All funds are usually placed in escrow and are only released when the buyer is fully content and satisfied with the work submitted. Also, all communication only takes place through the platform, ensuring that both buyer and seller remain safe and their money secure.
How Does Freelancer Work?
The Freelancer platform allows clients to post their jobs and projects, whether long-term or short-term. Then, these can either let freelancers bid on the project or look for their preferred freelancers themselves.
Is Freelancer Free?
Freelancer allows one to sign up, post projects, receive bids, review different portfolios of freelancers, and discuss job requirements, all for free. However, when clients award freelancers with projects, Freelancer charges a fee based on the overall value of the chosen bid.
Is Freelancer Safe?
In freelance.com, the security and safety of all payments are guaranteed. However, there have been several cases of scammers on the site. Therefore, you need to be extra careful when using the site and look for warning signs of any possible scammers.
Is Freelancer.com Legit?
Freelancer.com is a legit platform. It has earned many positive reviews from clients and freelancers who have had a good experience with the site. Also, the good thing about this site is that it is entirely free, and you get to choose freelancers yourself if you prefer to.