doTerra and Young Living are the two biggest brands selling essential oils for your therapeutic needs. In doTerra vs. Young Living essential oils comparison, we found that the oils produced by doTerra leave a stronger fragrance when diffused as compared to the ones produced by Young Living. That doesn't make any brand's oil less effective.
Understanding doTerra and Young Living Essential Oil Brands
What Is doTerra?
Established in 2008, doTerra is a US-based multi-level marketing company that deals in wellness products. 
What Is Young Living?
Established in 1993, Young Living is also a US-based multi-level marketing company, but that deals in essential oils and home products.
Listing doTerra vs. Young Living Similarities
Both doTerra and Young Living offer wellness products.
They are among the leading suppliers of therapeutic essential oils.
Both follow a similar marketing strategy.
Understanding doTerra vs. Young Living Differences
doTerra Vs. Young Living Sourcing 
doTerra uses 'Co-Impact sourcing' for its essential oils by purchasing oils from small scale farmers all over the globe. Young Living, on the other hand, has its own farms and uses 'Seed to Seal' technology.
doTerra Vs. Young Living Testing
doTerra maintains a website called "Source To You", where it records the test results conducted on each of its completed batches. You can use the batch number mentioned on the essential oil bottle to search for the results of your bottle's batch. Young Living also performs several tests on its oils throughout the process, but they do not publish any test results.
doTerra Vs. Young Living Starter Kit
Young Living's starter kit is more popular than doTerra as they have a more diversified product range. Choosing a kit, however, depends on your preference for oils.
Why Is doTerra Better Than Young Living?
To know which is better doTerra or Young Living, you'll first need to determine your requirements from the brand. Comparing their fragrance, doTerra is better than Young Living because it's essential oils diffuse better and smell sweeter than Young Living.
Are doTerra And Young Living The Same?
No, they both are two different companies dealing in the same line of product. But that doesn't make them the same, just like Samsung and Apple deals in the smartphone segment and are two different companies in every respect
Is doTerra A Pyramid Scheme?
doTerra is not a pyramid scheme. Rather it has a legitimate Multi-Level Marketing, aka MLM business model, just like many other top-rated companies like Amway or Herbalife.
Which Brand Is The Best Essential Oil?
Since product range and type of both doTerra and Young Living are almost similar, we are left with only one parameter in case we need one clear name. That parameter is the size of the customer base, and Young Living wins the bet as its customers rave about the quality of its essential oils.
Is doTerra Or Young Living Better?
The 'Who is better doTerra or Young Living?' question has always been left unanswered, solely because it all depends on individual preferences. If you prefer more fruity essential oils, choose doTerra. For the subtle scents, Young Living would be your perfect match. But the quality of both the brand's oils is unmatchable.
Which Brand Of Essential Oils Is The Purest?
Talking about the purity of doTerra vs. Young Living oils, both the companies have their respective best standards in place. To prevent quality compromise, doTerra has a Co-Impact Sourcing method in use, and Young Living has the famed Seed to Seal check to keep its oils pure.
What Are Essential Oils Good For Pain?
Both doTerra and Young Living essential oils can work for relieving pain. But if you are specifically into knowing the effect of particular oil usage, doTerra posts their test results of every batch that leaves their manufacturing unit. There has been no such attempt by any other company until now, including Young Living.
Do Essential Oils Really Work?
Contrary to the belief, essential oils aren't any snake oils. Neither are they medical wonders. They offer therapeutic benefits. Relieving pains, aggravating ease, and reducing discomfort from a disorder or disease is their primary focus. But if someone is using them with the thought of curing, say, a malignant tumor, he surely needs a long way to get educated about essential oil's real purpose.
Is Young Living A Pyramid Scheme?
No. Young Living is a legitimate and registered Multi-Level Marketing (MLM) business that has nothing to do with any scam. It merely works like some other famous MLM companies like Tupperware or Avon.
Charting Out The Pros And Cons Of doTerra And Young Living
doTerra Pros & Cons
| Pros of doTerra | Cons of doTerra |
| --- | --- |
| Transparent and clean brand image. | Lack of diversification of product range. |
| A lucrative compensation plan against competitors. | Ingredients are sourced from farms that are not owned by the company. Hence, the eye on quality gets a little lenient. |
| The packaging is better. | |
| Each batch's test results are updated on a separate website. The tests are conducted from an outside agency. | |
Young Living Pros & Cons
| Pros of Young Living  | Cons of Young Living  |
| --- | --- |
| Market leader in the essential oil sector. | Medical claims of the company's oils lack the backing of facts. |
| Massive range of products to choose from. | The quality standard of 'Seed to Seal' is a company made and hence seems deceptive to many. |
| Substantial goodwill from the past 25+ years. | The compensation plan for becoming a business associate is less lucrative. |
| An established brand name for quality. | |
| Ingredients sourced mostly from owned farms that let the company have strict quality control measures in place. | |
Comparison Chart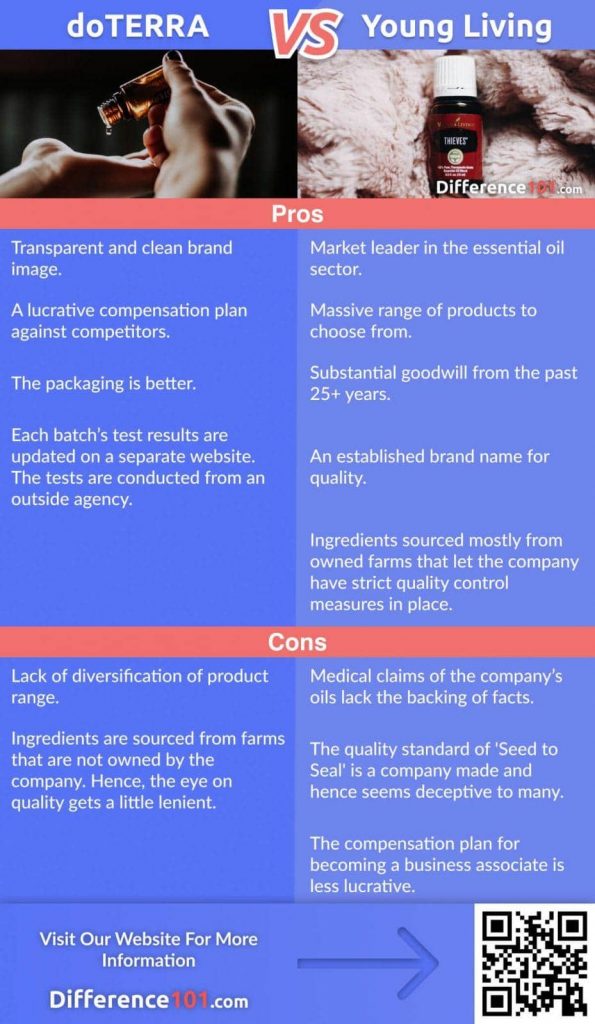 Comparison Video
So Which Is Better: doTerra Or Young Living?
Since the results delivered by the essential oils of doTerra and Young Living are identical, you can base your purchase decision either on cost or fragrance. Young Living offers oils that are pricier but carry a milder fragrance. The essential oils of both brands are high-quality and will give you the desired therapeutic effects.
Disclaimer
This article may contain obsolete or inaccurate information. Only a healthcare professional is qualified to provide medical advice, and only the health authorities in your country have the authority to issue public health guidance.
The Site and application cannot and do not contain medical/health and related subjects advice or treatment. The medical/health and related subjects information is provided for general informational and educational purposes only and is not a substitute for professional advice or treatment. Accordingly, before taking any actions based upon such information, we encourage you to consult with the appropriate professionals. We do not provide any kind of medical/health and related subjects advice or treatment. THE USE OR RELIANCE OF ANY INFORMATION CONTAINED ON THIS SITE OR OUR MOBILE APPLICATION IS SOLELY AT YOUR OWN RISK.
If you think you may have a medical/health emergency, contact your doctor, medical/health professional, or other qualified medical/health providers immediately.
For more information check our TOS & Disclaimer page.