Diamonds and moissanite are very similar stones and represent beauty, precision and longevity, but how do we know which is the best for our special occasion? While moissanite can be cut similarly to diamond and is cheaper, they don't hold quite the prestige as a diamond. A careful eye can tell them apart. Before shopping for the perfect gemstone, let's discuss the differences between the two.
Moissanite is cheaper, and is increasingly indistinguishable from diamond the smaller the cut, but doesn't come with the tradition of diamonds. On the other hand, diamond attracts more dirt and grease than its cheaper counterpart and is a pure mineral from the Earth itself. Moissanite was synthesized before it was found naturally, and perhaps you'd feel better knowing your jewelry wasn't "grown in a lab". 

What's the Difference Between Moissanite and Diamond?
Let's cut straight to the facts, and examine moissanite vs diamond side-by-side. See our table below for a quick guide to the differences between the two stones.
Comparison Chart
| | Diamond | Moissanite |
| --- | --- | --- |
| Durability | The toughest stone, at 10 on the Mohs Scale. You won't find anything harder than this! | Just a tiny bit lower than diamond, at 9.25 on the Mohs Scale. This is still brilliantly durable, and it will be hard to damage a moissanite stone accidentally |
| Price | Very expensive due to (artificial) scarcity – but then, one must consider diamonds are grown in laboratories | Can be synthesized in a lab, so up to 90% cheaper per carat |
| Appearance | Shine and sparkle! | Particularly in bright lights, stunningly sparkling |
| Conductivity | Higher thermal conductivity | Lower thermal conductivity. Beware that under extreme heat, the color can temporarily change |
| Prestige | Very popular and traditional | Less popular, but increasingly common recently |
What is Moissanite?
Although moissanite can be synthesized, it is a naturally occurring silicon carbide. Due to its similarities with diamond, it is a desirable stone for industrial purposes. It is named after its discoverer, French chemist Henri Moissan. The stone was introduced to the jewelry market in 1998 and has been widely regarded as a diamond alternative. Moissanite is comprised of very little carbon, which makes it a good choice for the environmentally conscious. Although, as mentioned, moissanite lacks the traditional background of a diamond, it is still a feasible option for engagement rings and is becoming increasingly popular. There's a trend of budgeting for the future, and many would rather invest their savings into a marital home than a diamond ring, especially considering the many similarities.
What is Diamond?
Diamonds are carbon compounds and some of the hardest occurring elements on Earth. This makes diamond very practical for industrial use, such as diamond saw blades, but it is of course also very popular in jewelry for its sparkle. One mustn't ignore the prestige of a diamond. Consider being able to flash a ring and declare It's diamond!
They say diamond is girl's best friend, but many might prefer the company of a less expensive, dazzling gemstone. When shopping for the perfect piece of jewelry, or the engagement ring of dreams, it's important to consider all the factors. Beware being blinded by the lure of diamond without considering the more budget-friendly options.
Differences and Similarities
Let's go into more depth, and explore the differences and similarities between moissanite and diamond.
Price: How much Moissanite and Diamond worth?
The most obvious difference is the price of moissanite versus diamond. As identified in the table above, moissanite can be up to 90% easier on the wallet than diamond, but let's look at the specifics. One carat diamond can set you back $5,000, whereas the same quality moissanite can be only $650: hardly cheap, but certainly more affordable than diamond! 
Let's get fancier! A stylishly cut, three carat diamond can reach $30,000 or more. Comparable moissanite sits all the way down at $1,500. This is partly because moissanite, although naturally occurring, is usually synthesized in laboratory settings. Furthermore, diamonds are subject to artificial scarcity, meaning the price ("three month's salary"!) is inflated while diamond suppliers trickle their inventory into the market.
Color
While diamonds are graded on the basis of their color, moissanite is not, as it doesn't display color, unless heated – a property that diamonds do not possess. The larger the cut of moissanite, the more color it projects. For customers searching for a diamond alternative, this is unfavorable. 
Hardness: Does Moissanite Last as Long as a Diamond?
Diamonds are 0.75% harder than moissanite, but considering diamond sits at the very top of the Mohs Scale, moissanite doesn't lag too far behind. If you're searching for the absolute peak of durability, you can't get better than diamond.
Brilliance
"Brilliance" is the amount of light projected by a stone. Diamonds project a relatively light sparkle, but don't let that fool you. Moissanites might have disco-ball levels of sparkle and fire in their heart, but sometimes this is overwhelming and, especially in bright sunlight, looks a bit "fake", and is a tell-tale sign you're not dealing with diamond.
Key Differences
Overall, you must decide what you desire in a piece of jewelry. Is prestige vital? Do you wish to know you're wearing real diamond, or wish to gift or propose with the real deal to show beauty and worth? Are you, perhaps, looking for the biggest sparkle for your buck? Is your budget a little tighter, or maybe you're looking for a companion piece that doesn't need all the wealth and prestige of diamond? Perhaps, at the bottom line, you'll feel more secure knowing you're wearing something at the top of the Mohs Scale.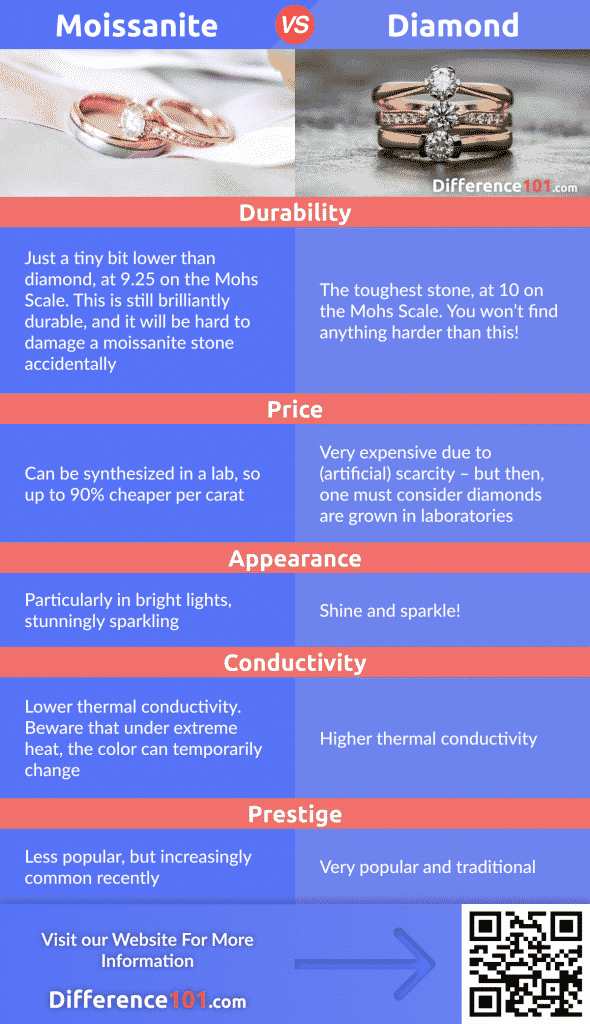 Comparison Video
A Final Thought
If not for the novelty of diamond, it comes down to budget vs prestige. After all, if you're proposing, saving $28,500 on a ring is $28,500 which can be spent on the wedding, the honeymoon, or maybe towards a new marital home!
Image Courtesy:
Photo by SYNG on Unsplash
Photo by Jacek Dylag on Unsplash