When it comes to online security, there are a lot of terms thrown around that can be confusing for the average person. Two terms that are often used interchangeably are firewall and antivirus. But what exactly is the difference between firewall and antivirus?
In short, a firewall is a network security system that monitors and controls incoming and outgoing network traffic. An antivirus, on the other hand, is a software that protects your computer from malware.
While both firewall and antivirus are important for online security, they serve different purposes. A firewall is a first line of defense against attempts to access your network, while an antivirus is designed to detect and remove malware that has already made its way onto your computer.
So, which one do you need? Both! Having a firewall and antivirus in place will help keep your computer and network safe from harm.
What Is Firewall?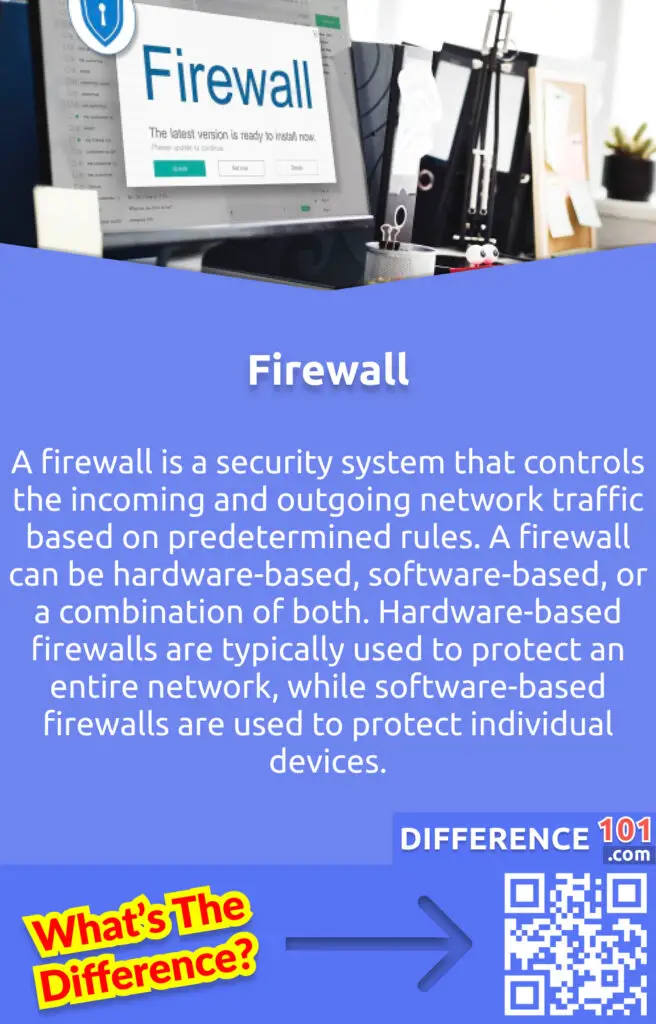 A firewall is a security system that controls the incoming and outgoing network traffic based on predetermined rules. A firewall can be hardware-based, software-based, or a combination of both. Hardware-based firewalls are typically used to protect an entire network, while software-based firewalls are used to protect individual devices.
What Is Antivirus?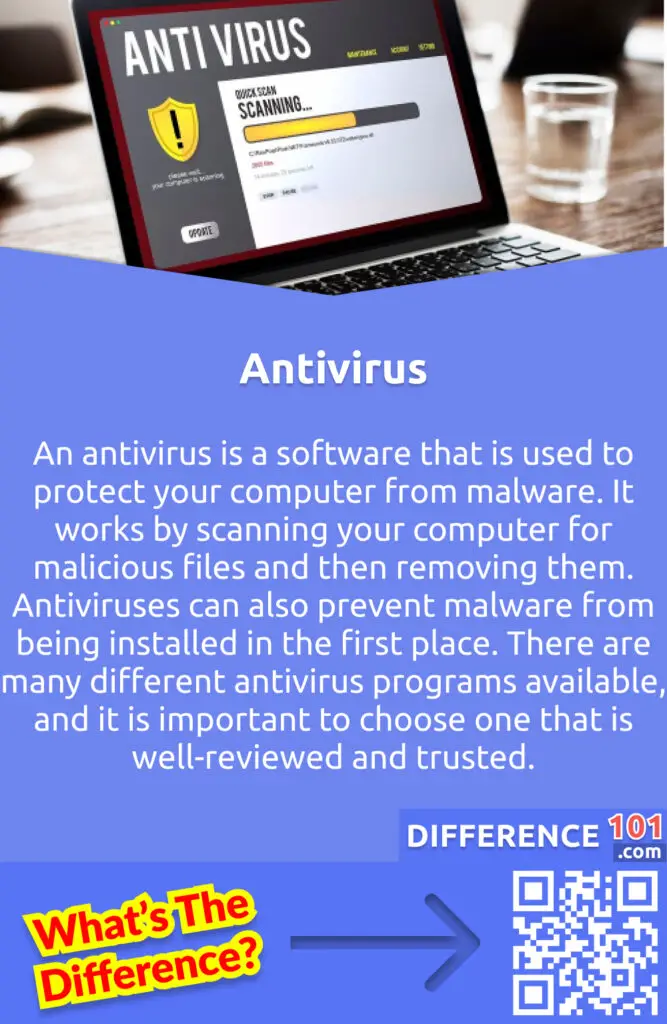 An antivirus is a software that is used to protect your computer from malware. It works by scanning your computer for malicious files and then removing them. Antiviruses can also prevent malware from being installed in the first place. There are many different antivirus programs available, and it is important to choose one that is well-reviewed and trusted.
Key Differences Between Firewall And Antivirus
There are two key types of security software: firewalls and antivirus programs. Both are important in keeping your computer safe, but they work in different ways.
A firewall monitors all incoming and outgoing traffic and can block certain types of traffic, such as from known malicious websites. An antivirus program, on the other hand, scans all files and programs on your computer for malware and can remove any that it finds.
So, to summarise, the key differences between firewalls and antivirus programs are:
Firewalls monitor traffic, while antivirus programs scan files.
Firewalls can block traffic, while antivirus programs can remove malware.
Firewalls identify potential threats based on information before they affect your computer.
Firewalls protect your computer from the outside, while antivirus programs protect your computer from the inside.
Firewall vs. Antivirus Similarities
There are several similarities between Firewall and Antivirus software. Both are designed to protect your computer from outside threats. Both programs work by scanning incoming data and blocking anything that appears to be malicious. In addition, both Firewall and Antivirus software can be set to automatically update their databases of known threats, ensuring that your computer is always protected from the latest threats.
Firewall vs. Antivirus Pros and Cons
Firewall Pros & Cons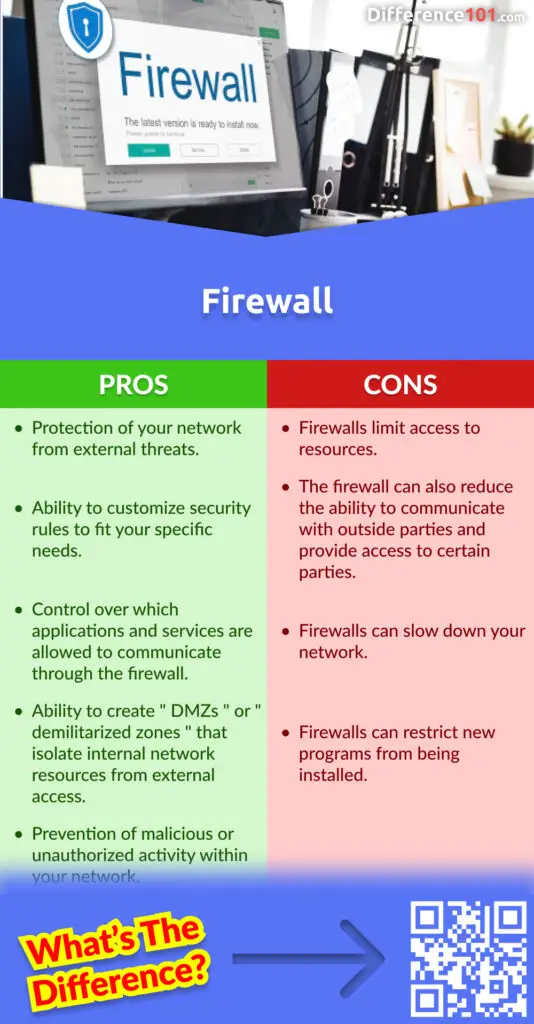 Firewall Pros
Advantages of using a firewall include:
Protection of your network from external threats.
Ability to customize security rules to fit your specific needs.
Control over which applications and services are allowed to communicate through the firewall.
Ability to create " DMZs " or " demilitarized zones " that isolate internal network resources from external access.
Prevention of malicious or unauthorized activity within your network.
Firewall Cons
Firewalls can provide a false sense of security. If a firewall is not properly configured, it can actually provide a way for hackers to gain access to a network. Firewalls can also block legitimate traffic, making it difficult for users to access needed resources.
Firewalls limit access to resources.
The firewall can also reduce the ability to communicate with outside parties and provide access to certain parties.
Firewalls can slow down your network.
Firewalls can restrict new programs from being installed.
Antivirus Pros & Cons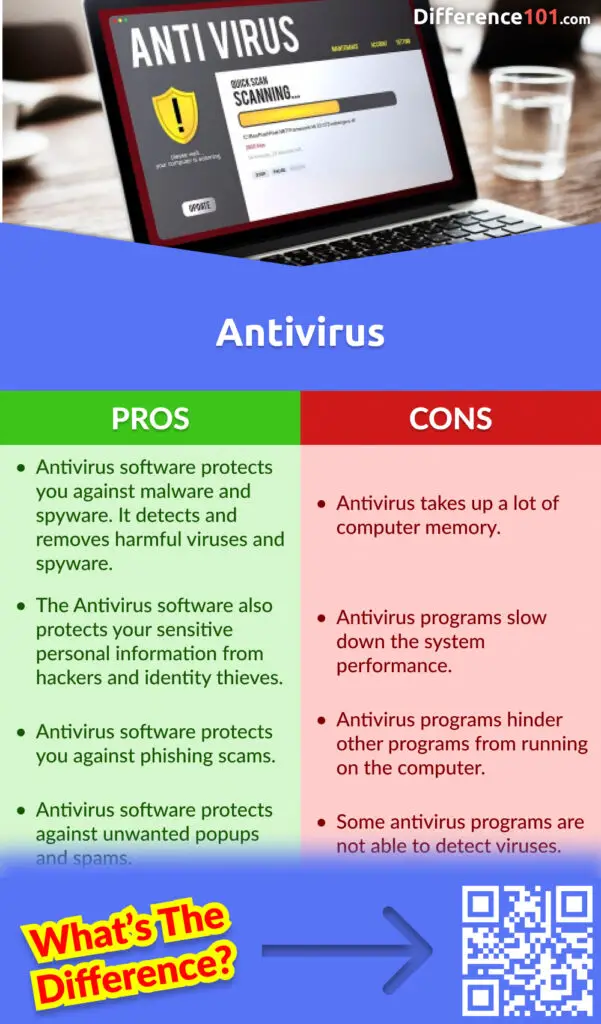 Antivirus Pros
The advantages of Antivirus are many, but the most important is that it can protect your computer from malware and other online threats. Antivirus can also help improve your computer's performance by scanning for and removing malicious software. Additionally, Antivirus can block phishing attempts and other online scams.
Antivirus software protects you against malware and spyware. It detects and removes harmful viruses and spyware.
The Antivirus software also protects your sensitive personal information from hackers and identity thieves.
Antivirus software protects you against phishing scams.
Antivirus software protects against unwanted popups and spams.
Antivirus Cons
There are several disadvantages to using antivirus software. One disadvantage is that it can slow down your computer. Another disadvantage is that it can be difficult to find the right antivirus software for your computer. Additionally, antivirus software can be expensive. Finally, antivirus software can be ineffective against new viruses.
Antivirus takes up a lot of computer memory.
Antivirus programs slow down the system performance.
Antivirus programs hinder other programs from running on the computer.
Some antivirus programs are not able to detect viruses.
Comparison Chart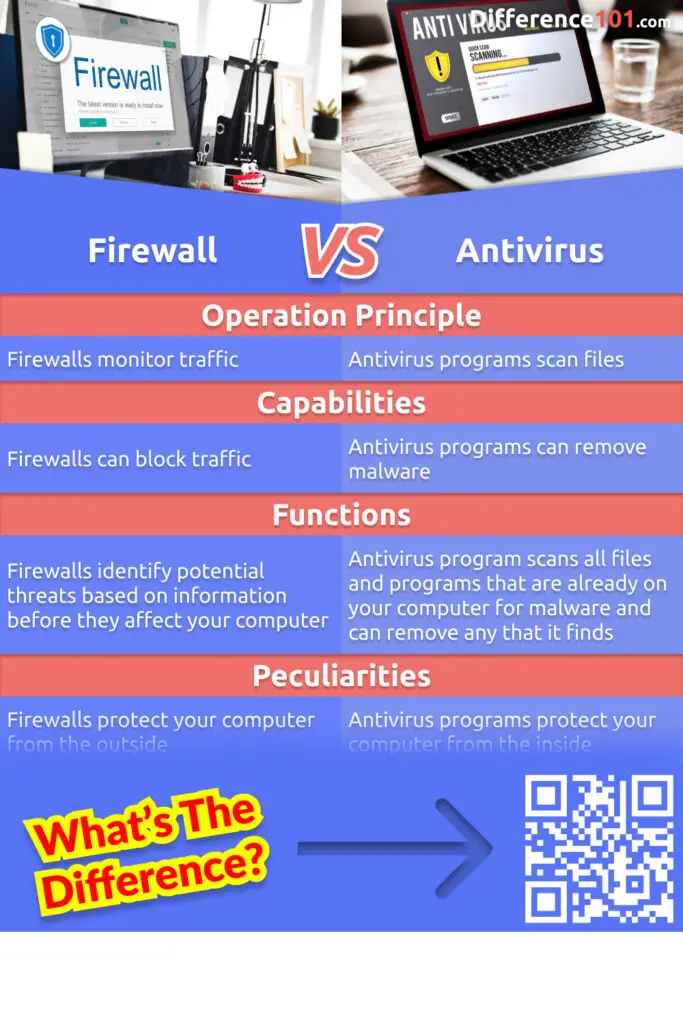 Comparison Video
Conclusion
In conclusion, Firewall is hardware-based and blocks all incoming or outgoing network traffic. In Antivirus, a software does the same except blocks only malicious files.