Referral Program vs. Affiliate Program: Referral and affiliate are the two popular programs businesses use to market themselves. Although both programs share the same goals, there are many differences between them as well. the main difference between affiliate program and referral program is that affiliate programs use affiliates like social media influencers to promote their business, while in referral programs, the old customer promotes the products to get discount.
Let's take a closer look at Referral vs. Affiliate Program
| | |
| --- | --- |
| Rewards | Referral programs reward with a gift card, coupons, and cash, while only cash is rewarded in affiliate programs. |
| Partner Type | A referral program is the first-party program, while an affiliate is a third party. |
| Logistical Hurdles | Both programs provide partners with referral links to share |
| Partner Channels Reach | Partner reach of a referral program is family and friends and in affiliate ad networks and circles. |
What Is A Referral Program?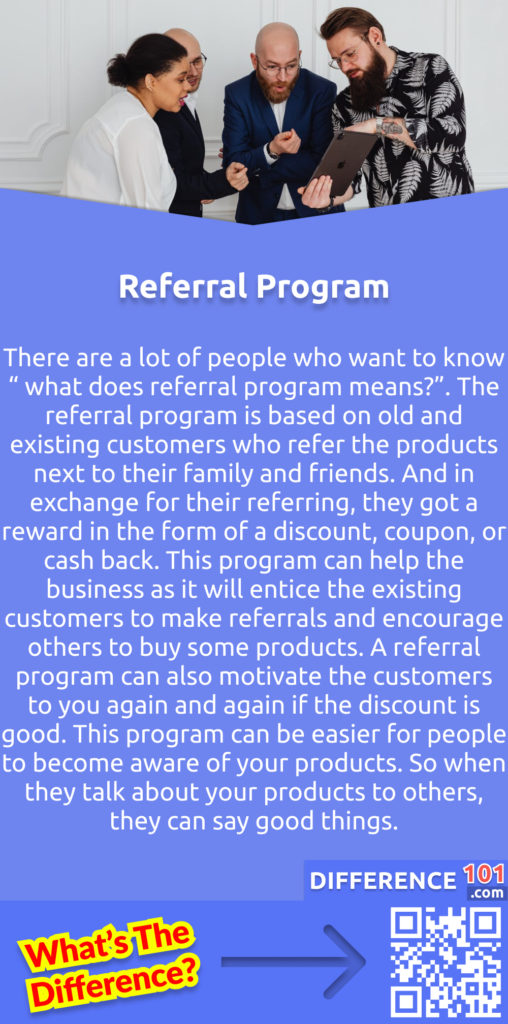 There are a lot of people who want to know " what does referral program means?". The referral program is based on old and existing customers who refer the products next to their family and friends. And in exchange for their referring, they got a reward in the form of a discount, coupon, or cash back. This program can help the business as it will entice the existing customers to make referrals and encourage others to buy some products. A referral program can also motivate the customers to you again and again if the discount is good. This program can be easier for people to become aware of your products. So when they talk about your products to others, they can say good things.
What Is an Affiliate Program?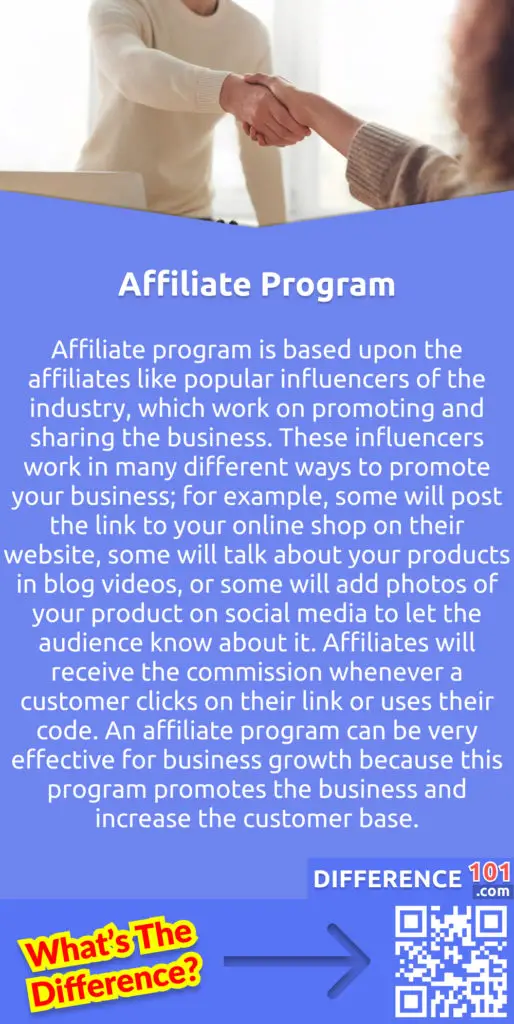 Affiliate program is based upon the affiliates like popular influencers of the industry, which work on promoting and sharing the business. These influencers work in many different ways to promote your business; for example, some will post the link to your online shop on their website, some will talk about your products in blog videos, or some will add photos of your product on social media to let the audience know about it. Affiliates will receive the commission whenever a customer clicks on their link or uses their code. An affiliate program can be very effective for business growth because this program promotes the business and increase the customer base.
6 Key Differences Between Referral and Affiliate Program
| Components | Referral Program | Affiliate Program |
| --- | --- | --- |
| Definition | A referral is a great marketing program to reach new customers through promoting existing customers resulting in excellent rewards. | Affiliate program is reaching new customers with the help of affiliates like social media influencers. |
| Use of Social Media | In a referral system, a business can use its website, social media, and email list to promote its products. | In affiliate programs, a business can only rely on influencers' websites and social media accounts. |
| Easier | If we compare referral Vs. affiliate, referral program is easier because it can be started with existing customers and tools | To run the affiliate program properly, it is essential to have high-quality tools to manage and track affiliates. |
| Time Taking | Referral programs don't take much time because they depend upon existing customers who will promote the products for discounts. | In an affiliate program, finding and connecting a talented influencer can take a lot of time, and all affiliates are not able to work for the long term.  |
| Motivation | In a referral program, the existing customer is motivated to get a reward from a business. | In affiliate programs, the influencers are motivated to get their commission or free products from the business. |
| Product Motivation | Referrers have already bought from the business and promote those products to their relatives and friends. | Affiliates will be promoting the products even if they have not used them or personally bought them from a business. |
Referral vs. Affiliate Program Similarities
Whether it is an affiliate program or referral program, both can be cost-effective in promoting the business. But with the right tools and creative inventory, businesses can get better results.
Both programs have the same goals to promote their product and increase business growth.
Businesses have to rely only on the words of the promoters, with both referral and affiliate programs. So, trust is the basic element in these.
Affiliates and referrers shared a specific link that let the business know about the progress of product promotion.
Affiliate vs. Associate
Affiliate and associate are two different nouns. An affiliate is affiliated or linked with a member of a group of associated things. On the other hand, an associate is a person united with a business partner, colleague or another person in an activity. And if we look at the difference between affiliate and associate membership, both involve different people and different goals.
Affiliate Network vs. Affiliate Program
An affiliate network is a platform that connects the marketers and companies so that the marketers can easily reach the influencers to promote their products. For example, Amazon is an affiliate network where affiliates promote the products. On the other hand, an affiliate program is a platform that the businessman sets up, And they invite the marketers to join and promote their products.
Referral Program vs. Affiliate Program Pros and Cons
Referral Program Pros and Cons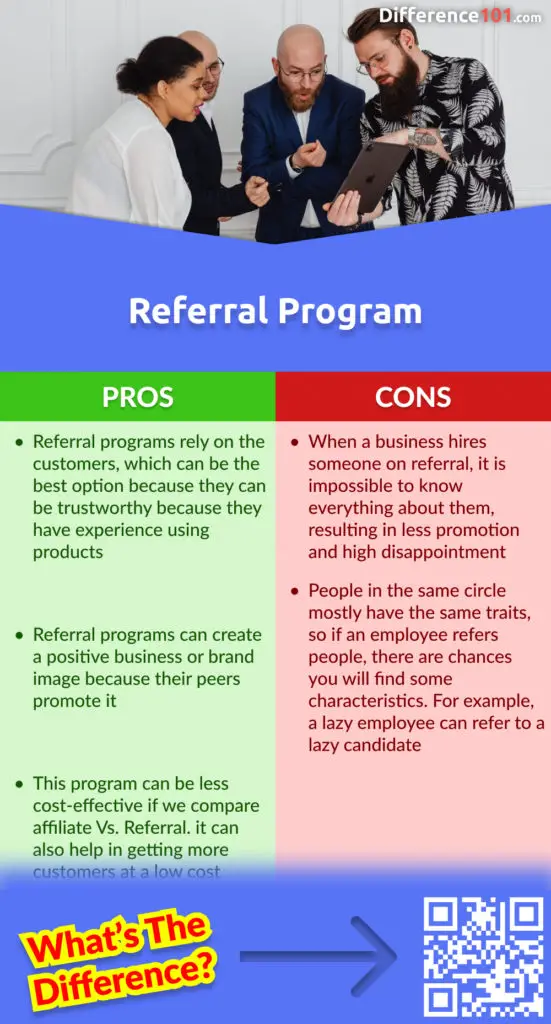 Pros of Referral Program
Referral programs rely on the customers, which can be the best option because they can be trustworthy because they have experience using products.
Referral programs can create a positive business or brand image because their peers promote it.
This program can be less cost-effective if we compare affiliate Vs. Referral. it can also help in getting more customers at a low cost.
Cons of Referral Program
When a business hires someone on referral, it is impossible to know everything about them, resulting in less promotion and high disappointment.
People in the same circle mostly have the same traits, so if an employee refers people, there are chances you will find some characteristics. For example, a lazy employee can refer to a lazy candidate.
Affiliate Programs Pros and Cons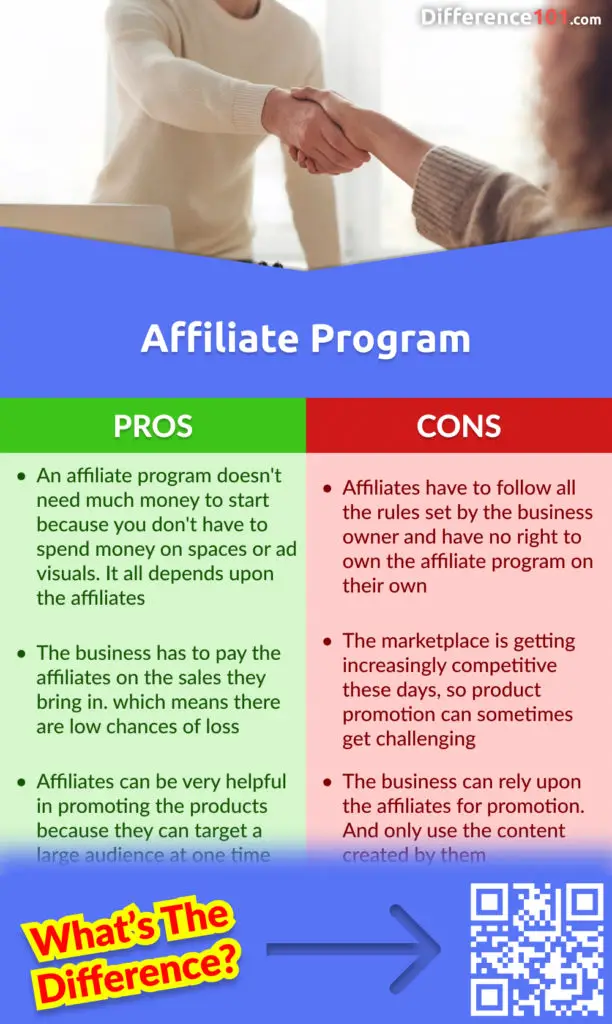 Pros of Affiliate Program
An affiliate program doesn't need much money to start because you don't have to spend money on spaces or ad visuals. It all depends upon the affiliates.
The business has to pay the affiliates on the sales they bring in. which means there are low chances of loss.
Affiliates can be very helpful in promoting the products because they can target a large audience at one time.
Cons of Affiliate Program
Affiliates have to follow all the rules set by the business owner and have no right to own the affiliate program on their own.
The marketplace is getting increasingly competitive these days, so product promotion can sometimes get challenging.
The business can rely upon the affiliates for promotion. And only use the content created by them.
Comparison Chart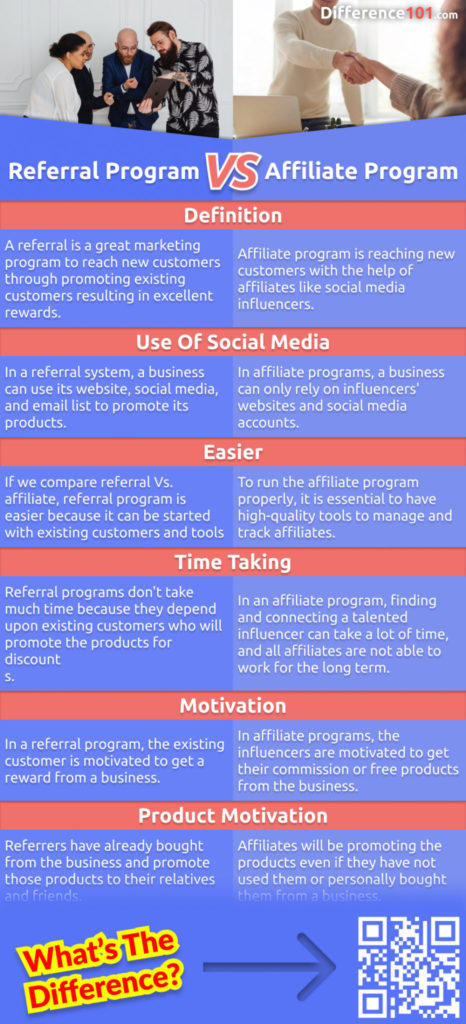 Comparison Video
FAQs
What is the best affiliate program?
Robby Blanchard is considered to be the number one affiliate program.
Are affiliate programs worth it?
Yes, because you won't sell or promote your product on your own. Affiliates can be a good option to do that as they can target a large audience.
How many affiliate programs can I join?
There is no restriction on the number of affiliate programs one can join. This means you can join multiple affiliate programs at one time and make more money.
How effective are referral programs?
Referral programs are very effective because they can provide benefits to any business. According to a 2015 report, 83% of the customers trust the recommendation of their family and friends.
Are our affiliate programs legit?
Affiliate programs are a 100% legal way to promote business and make money. It is legit and used by 80% of the global brands.
Conclusion
Most marketing strategies use referral and affiliate programs to increase their business growth. Undoubtedly, both of these programs have the same goal of promoting the products but are also different in many ways. The main difference between affiliate and referral programs is that the affiliate program does the product promotion with the help of affiliates by giving them cash for free products, while the referral program promotes their product through their existing customers. And gave them cashback, coupons, and discounts as a reward for promotion.