DSLR and SLR both are very famous cameras used by professional photographers. Both of these cameras reflect light that enters through the lens with the help of a mirror to make an image in a viewfinder. The main difference between DSLR and SLR cameras is in their imaging technology. DSLR uses a memory card to record and store the pictures, while SLR uses film rolls.
Let's take a closer look at DSLR VS. SLR
| | |
| --- | --- |
| Video Capability | DSLRs are capable of recording videos, while SLRs don't |
| Costly | DSLRs are more expensive than SLRs |
| Weight | DSLRs are more heavy and bulky as compared to SLRs |
| Lenses | Both use interchangeable lenses |
What is a DSLR?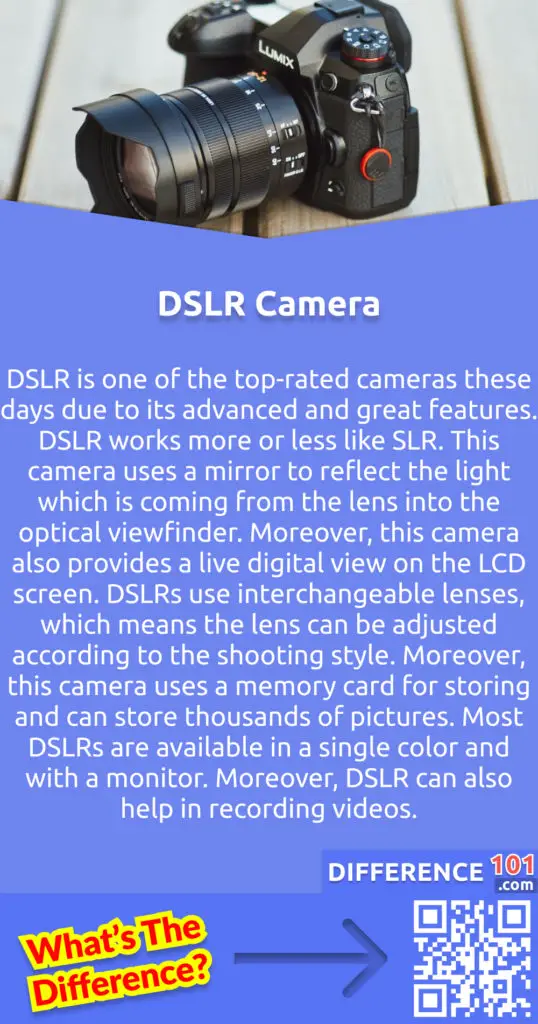 DSLR is one of the top-rated cameras these days due to its advanced and great features. DSLR works more or less like SLR. This camera uses a mirror to reflect the light which is coming from the lens into the optical viewfinder. Moreover, this camera also provides a live digital view on the LCD screen. DSLRs use interchangeable lenses, which means the lens can be adjusted according to the shooting style. Moreover, this camera uses a memory card for storing and can store thousands of pictures. Most DSLRs are available in a single color and with a monitor. Moreover, DSLR can also help in recording videos.
What is SLR?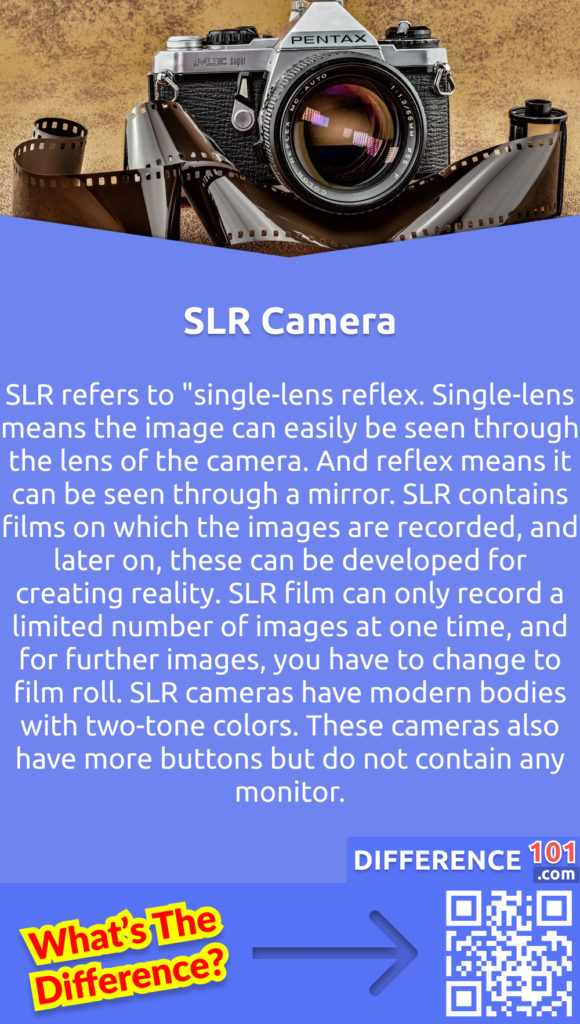 SLR refers to "single-lens reflex. Single-lens means the image can easily be seen through the lens of the camera. And reflex means it can be seen through a mirror. SLR contains films on which the images are recorded, and later on, these can be developed for creating reality. SLR film can only record a limited number of images at one time, and for further images, you have to change to film roll. SLR cameras have modern bodies with two-tone colors. These cameras also have more buttons but do not contain any monitor.
6 Key Differences Between DSLR and SLR Cameras
| Components | DSLR | SLR |
| --- | --- | --- |
| Technology | DSLR camera uses a mirror to reflect the light which is coming from the lens into the optical viewfinder | SLR provides live optical viewing through the lens by using the reflex mirror |
| Stands For | DSLR stands for Digital single-lens reflex | SLR stands for single-lens reflex |
| Storage | DSLRs have a higher storage capacity than SLRs and can store thousands of images. | SLR can only store 35 images in each film roll, and for taking further pictures, the film roll has to be changed |
| Reusability | The memory card for DSLR can be reused by deleting the old pictures | Images cannot be deleted from the film roll. So, it cannot be reused |
| Shutter Speed | The shorter range of DSLR is 1/4000th to 1/8000th of a second | The shorter range of SLR is from 1-1000th  of a second. |
| Expensive | DSLR is way much more expensive as compared to SLR | SLR is less expensive than DSLR |
DSLR vs. SLR Pros and Cons
Pros and Cons of DSLR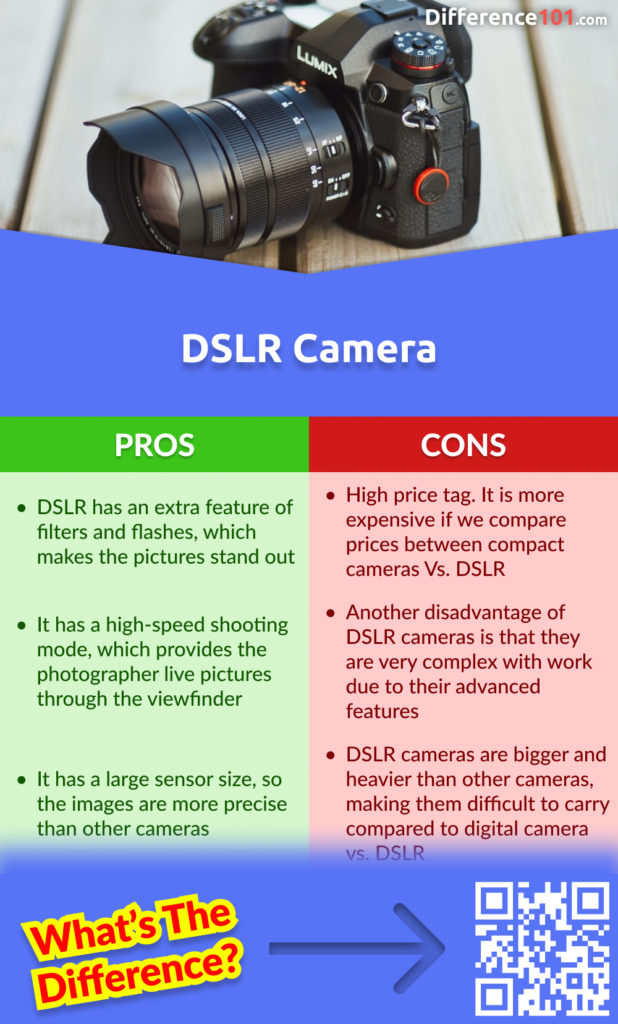 Pros of DSLR:
DSLR has an extra feature of filters and flashes, which makes the pictures stand out.
It has a high-speed shooting mode, which provides the photographer live pictures through the viewfinder.
It has a large sensor size, so the images are more precise than other cameras.
Cons of DSLR:
High price tag. It is more expensive if we compare prices between compact cameras vs. DSLR.
Another disadvantage of DSLR cameras is that they are very complex with work due to their advanced features.
DSLR cameras are bigger and heavier than other cameras, making them difficult to carry compared to digital camera vs. DSLR.
SLR Pros and Cons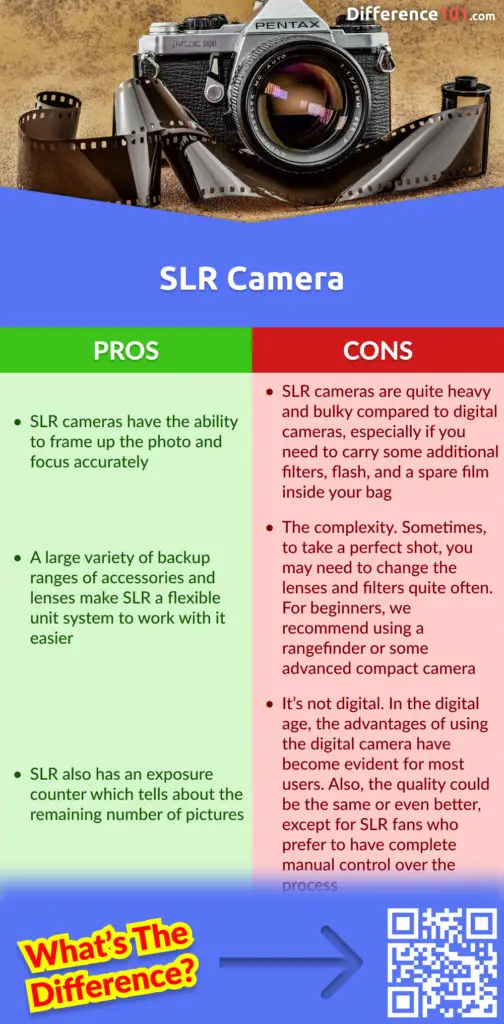 Pros of SLR:
SLR cameras have the ability to frame up the photo and focus accurately.
A large variety of backup ranges of accessories and lenses make SLR a flexible unit system to work with it easier.
SLR also has an exposure counter which tells about the remaining number of pictures.
Cons of SLR:
SLR cameras are quite heavy and bulky compared to digital cameras, especially if you need to carry some additional filters, flash, and a spare film inside your bag.
The complexity. Sometimes, to take a perfect shot, you may need to change the lenses and filters quite often. For beginners, we recommend using a rangefinder or some advanced compact camera.
It's not digital. In the digital age, the advantages of using the digital camera have become evident for most users. Also, the quality could be the same or even better, except for SLR fans who prefer to have complete manual control over the process.
Comparison Chart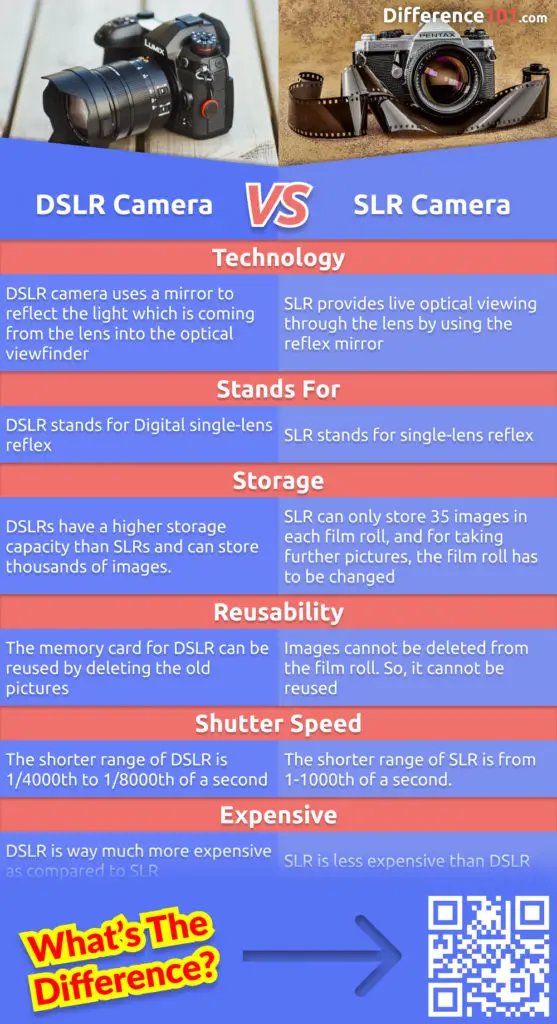 Comparison Video
FAQs
Which is Better, SLR or DSLR?
DSLR  is better. Because it provides a live preview and doesn't waste film when the photographer makes mistakes in taking pictures. You can easily erase pictures from your memory card.
Why Use a DSLR Camera?
DSLR can be used for photography as it gives sharpness, clarity, and better resolution as compared to many other cameras.
What Are the Types of Cameras?
There are many different types of cameras out there. But the main four types are DSLR, mirrorless, compact, and bridge cameras.
Conclusion
DSLR and SLR both are popular cameras used to take pictures. The main DSLR and SLR difference is in their image technology. If we look at the definition of a DSLR camera, it is the camera that takes digital photos. While in the definition of a SLR camera, it is the camera that gives the ability to change the lens for a shoot situation. DSLRs are basically a new form of SLR cameras. From SLR to DSLR, a lot of features have been added to the camera. and now it is the most popular camera to use for photography whether we compare DSLR Vs. digital SLR or compact camera vs. DSLR.