Law vs. Ethics: Laws and ethics are rules and guidelines in society that every person should follow to live peacefully. These terms are very closely related to each other as ethics are made by a society which leads to the development of the law. But if we look at laws versus ethics, The difference between laws and ethics is that ethics are the moral principles that are made socially by the surroundings, while the law is the rules made by authorities. Both ethics and the laws are very important to love in society.
Let's take a closer look at law versus ethics:
| | |
| --- | --- |
| Governed By | Law is governed by the government while ethics by the individuals |
| Expression | Law is expressed and published in writing, while ethics are abstract |
| Enforcement | Laws are enforced to the people while ethics did not |
| Made By | Laws are made by justice authorities while rules by philosophers or elders |
What is Law?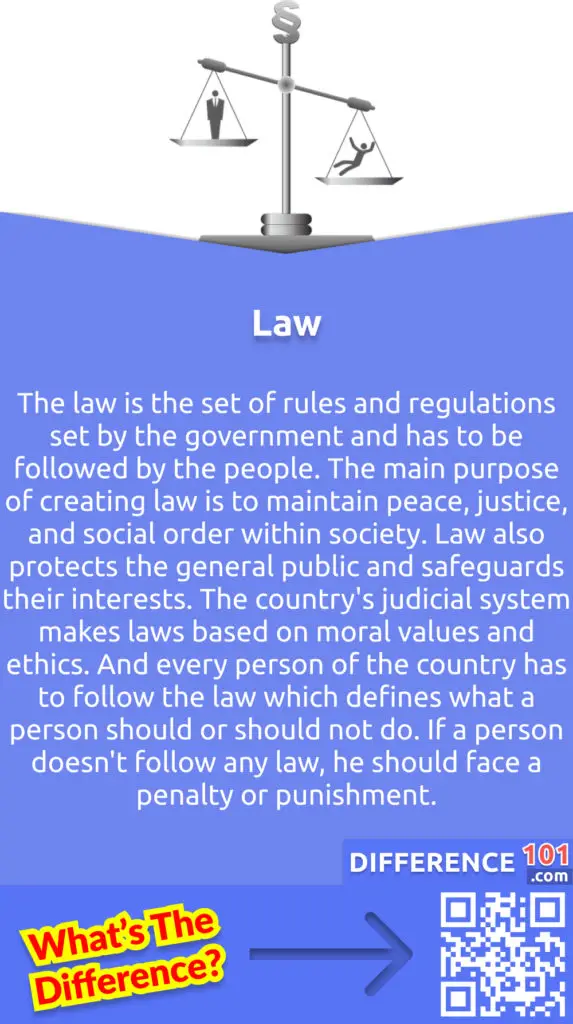 The law is the set of rules and regulations set by the government and has to be followed by the people. The main purpose of creating law is to maintain peace, justice, and social order within society. Law also protects the general public and safeguards their interests. The country's judicial system makes laws based on moral values and ethics. And every person of the country has to follow the law which defines what a person should or should not do. If a person doesn't follow any law, he should face a penalty or punishment.
What are Ethics?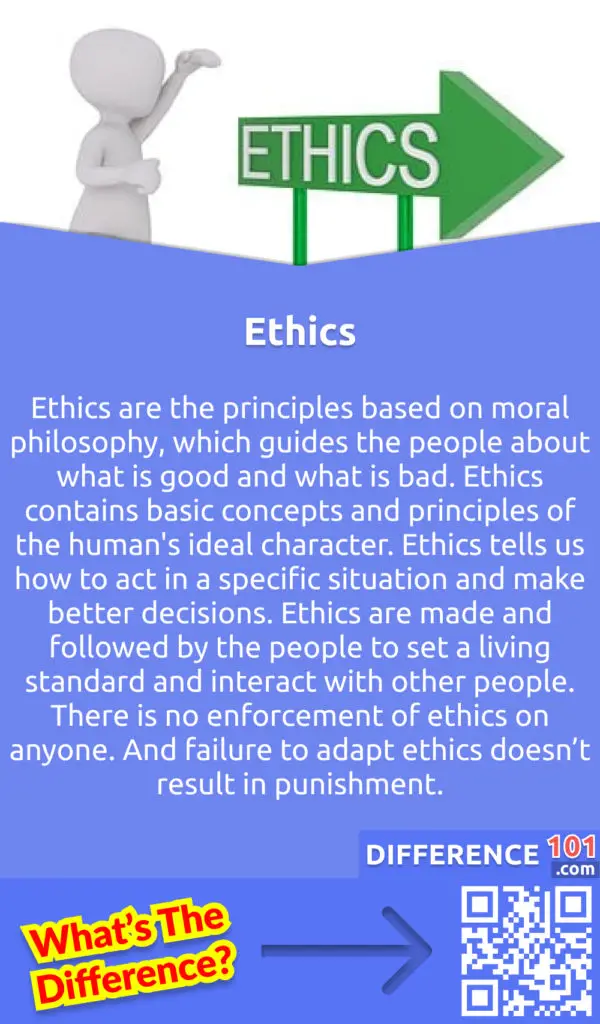 Ethics are the principles based on moral philosophy, which guides the people about what is good and what is bad. Ethics contains basic concepts and principles of the human's ideal character. Ethics tells us how to act in a specific situation and make better decisions. Ethics are made and followed by the people to set a living standard and interact with other people. There is no enforcement of ethics on anyone. And failure to adapt ethics doesn't result in punishment.
7 Key Differences Between Law and Ethics
There are the following differences if we compare law versus ethics
| Components | Law | Ethics |
| --- | --- | --- |
| Definition | Law is the rules made and enforced by the authorities to ensure peace, justice, and safety. | Ethics are the moral principles made and followed by individuals who control their behavior in society. |
| Objective | The main objective of the law is to maintain peace, justice, and social order in society | Ethics helps people to choose what is wrong and what is right. |
| Codes | Every individual is bound to obey them | Individuals are not bound to follow them |
| Characteristics | Laws that are enforced consistently need to be published and obeyed. | Ethics are not consistent and reinforced; these don't need to be published or obeyed. |
| Makers | Laws are made by justice authorities and lawyers | Ethics are made by philosophers, religious leaders, and elders |
| Violation | Any violation can lead to punishment and penalty | There is no penalty or punishment |
| Applied To | Applied to every individual of country, state, and place of crime | It can be applied anywhere, universally |
Legal vs. Ethical
Legal is an adjective and noun associated with ethics. At the same time, legal is an adjective, and noun concerns the law. There are various legal Vs. Ethical examples like when an accident happens, other people help the needy without any reason is ethical. And punishment given to the person who does that accident Is legal. And if we talk about legality Vs. Ethics, legality is an act according to the law, while ethics are concepts of right and wrong.
The Law of Ethics
If we look at the law of ethics definition, general rules of right living provide the proper guidance for daily practices. Ethics and laws are both important parts of society, and together these made a proper society without any injustice and violence.
Laws vs. Ethics Similarities
There are the following similarities in ethics vs. laws:
Law and ethics, both are made to prevent immoral and unlawful acts from the society.
Both are aimed to create a better society of people with good behaviors and attitudes.
Both work in establishing moral boundaries for the people in society.
Law vs. Ethics Pros and Cons
Pros and Cons of Law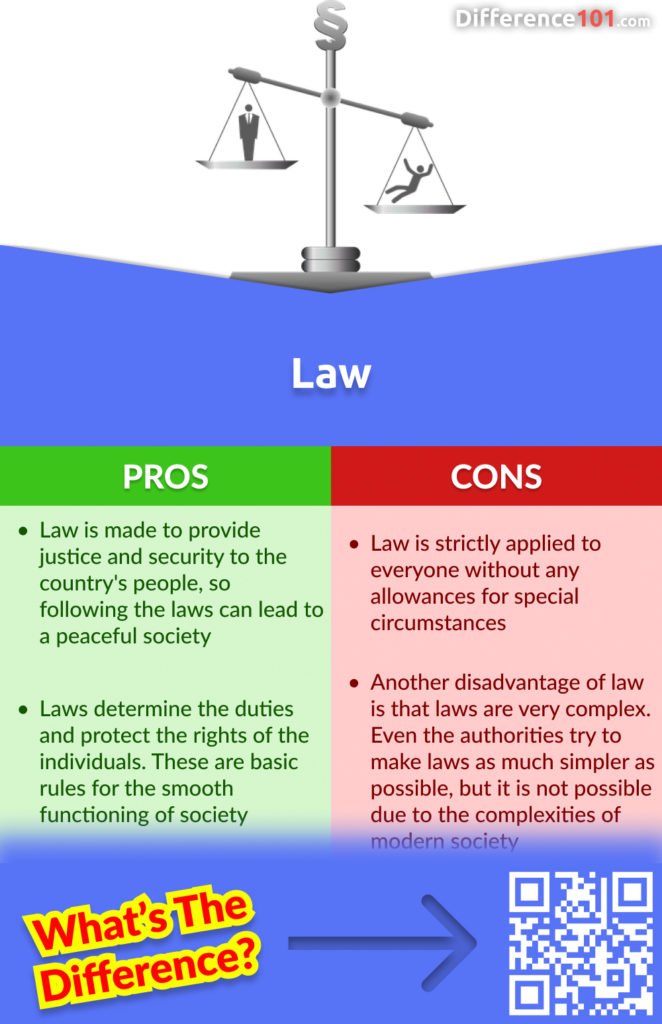 Pros of Law
Law is made to provide justice and security to the country's people, so following the laws can lead to a peaceful society.
Laws determine the duties and protect the rights of the individuals. These are basic rules for the smooth functioning of society.
Cons of Law
Law is strictly applied to everyone without any allowances for special circumstances.
Another disadvantage of law is that laws are very complex. Even the authorities try to make laws as much simpler as possible, but it is not possible due to the complexities of modern society.
Pros and Cons of Ethics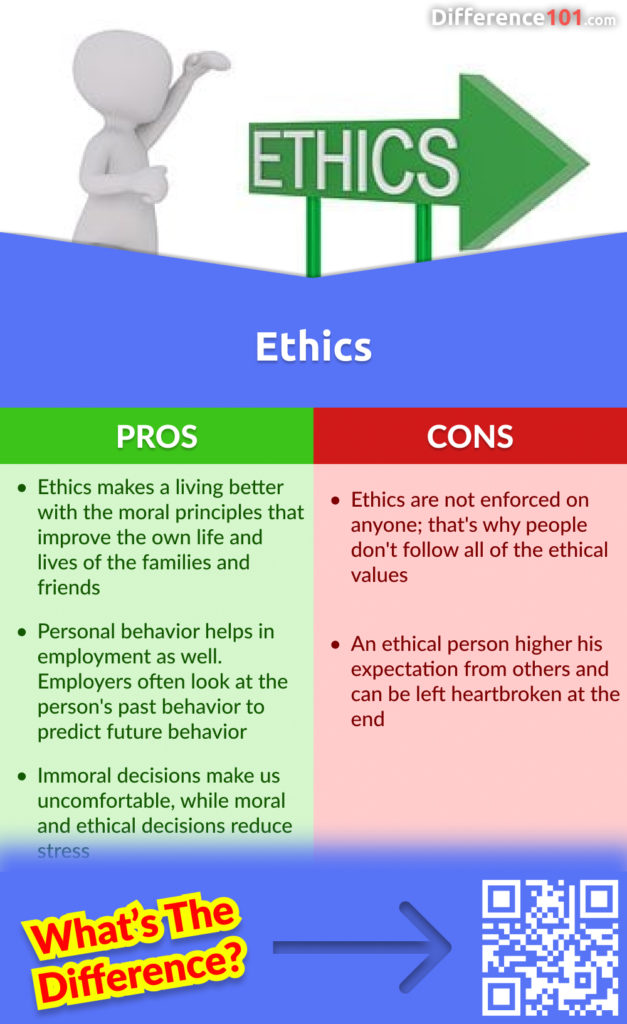 Pros of Ethics
Ethics makes a living better with the moral principles that improve the own life and lives of the families and friends.
Personal behavior helps in employment as well. Employers often look at the person's past behavior to predict future behavior.
Immoral decisions make us uncomfortable, while moral and ethical decisions reduce stress.
Cons of Ethics
Ethics are not enforced on anyone; that's why people don't follow all of the ethical values.
An ethical person higher his expectation from others and can be left heartbroken at the end.
Comparison Chart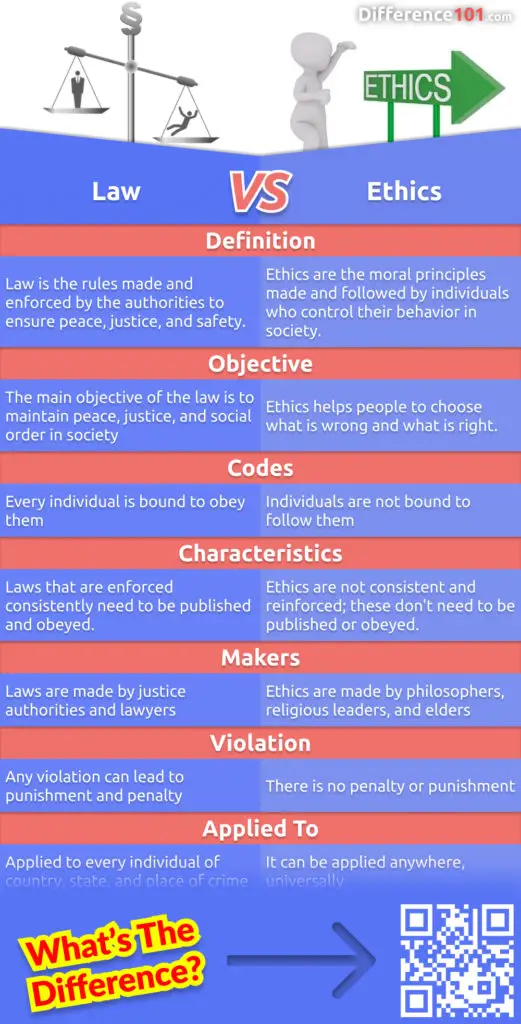 Comparison Video
FAQs
Do You Think Most Lawyers Would Say That They Are Ethical?
Yes, but there are both ethical and unethical prosecutors out there.
What Is the Difference Between a Lawyer and an Attorney?
A lawyer has a law degree from law school but is not allowed to practice law in another state. Attorney also has a law degree but is also admitted to practice law in one or more states.
What Is the Difference Between Ethical Norms and Law?
Both ethical and law are different terms. Law is based upon the rules made by the authorities, while ethical norms are based upon human rights, what is right and what is wrong.
Are All Ethics Legal?
No, neither all laws are ethical, nor all ethics are legal. Ethics are rules made by individuals without enforcement.
Conclusion
Laws and ethics are very important terms in making our society better. If we compare ethic vs. Law, both are different in ways what a person must do and what a person should do. But both are related to each other as they tell us how to act in a particular situation. There is no concept of inferiority and superiority in-laws and ethics; everyone is equal and has the right to think and choose freely. Ethics are moral values, and the only difference is laws vs. Morals are that people have to follow the law and can get punished over abandoning. But moral values are not forced onto anyone.