Salad cream and mayonnaise are used in many dishes and thought to be the same, sometimes due to their common ingredients. However, mayonnaise is thicker than salad cream and is used to make different sauces used in different dishes and sandwiches. On the other hand, salad cream is not as thick as mayonnaise and is used to increase the flavor of the Salad. Another common difference between these two is that salad cream consists of vinegar more than oil, while mayonnaise contains more oil and less vinegar.
Let us take a closer look at salad cream and mayonnaise
| | |
| --- | --- |
| Thickness | Mayonnaise has more thickness as compared to salad cream |
| Taste | Salad cream is sweeter in taste than mayonnaise |
| Color | Salad cream has white color while mayonnaise is lighter than that |
What is salad cream?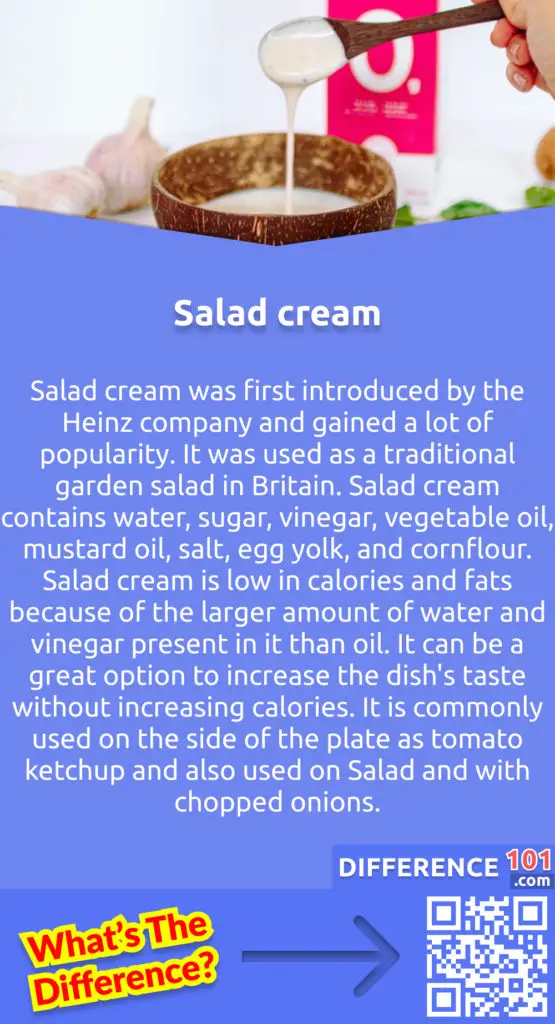 Salad cream was first introduced by the Heinz company and gained a lot of popularity. It was used as a traditional garden salad in Britain. Salad cream contains water, sugar, vinegar, vegetable oil, mustard oil, salt, egg yolk, and cornflour. Salad cream is low in calories and fats because of the larger amount of water and vinegar present in it than oil. It can be a great option to increase the dish's taste without increasing calories. It is commonly used on the side of the plate as tomato ketchup and also used on Salad and with chopped onions.
What is mayonnaise?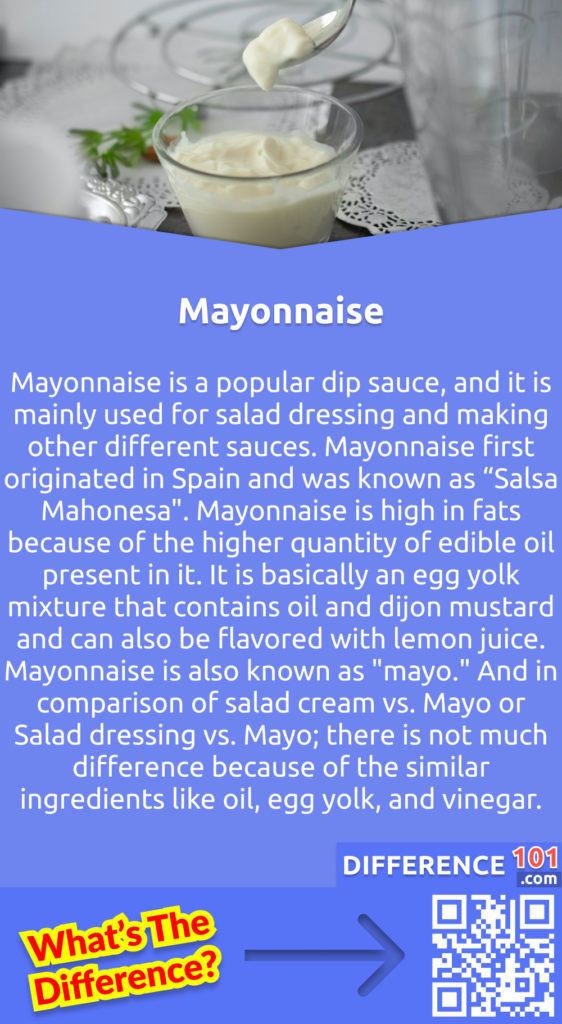 Mayonnaise is a popular dip sauce, and it is mainly used for salad dressing and making other different sauces. Mayonnaise first originated in Spain and was known as "Salsa Mahonesa". Mayonnaise is high in fats because of the higher quantity of edible oil present in it. It is basically an egg yolk mixture that contains oil and dijon mustard and can also be flavored with lemon juice. Mayonnaise is also known as "mayo."
And in comparison of salad cream vs. Mayo or Salad dressing vs. Mayo; there is not much difference because of the similar ingredients like oil, egg yolk, and vinegar.
Salad cream vs. Mayonnaise key differences
| Components | Salad cream | Mayonnaise |
| --- | --- | --- |
| Vinegar to oil proportion | Salad cream contains more vinegar than oil | While in mayonnaise, there is more oil than vinegar |
| Other ingredients | Rapeseed oil: 22%Egg yolk: less than 3% | Rapeseed oil: 68%Egg yolk: more than 5% |
| Making process | A traditional recipe for salad cream is mixing egg yolk with olive oil and double cream, which can be seasoned with spices and lemon juice. | Mayonnaise is simply made by mixing egg yolk, lemon juice, oil, and vinegar |
| Origin | In the 19th century, Salad cream was first introduced in British by Heinz company. It became popular in 1914 and broadly used. | Mayonnaise was used in Spain with the name "Salsa Mahonesa." And become famous as dip sauce and salad dressing. |
| Color and texture | The color of salad cream is yellow, and it has a creamy texture | Mayonnaise varies in color from white to pale yellow. Its texture is like a thick gel |
| Consistency | Salad cream is thicker than mayonnaise | Mayonnaise has a very thick consistency |
| Main use | Salad cream can be used as a salad dressing, and sandwich spread as well | Mayonnaise is a famous dip sauce and can use in making sauces. Mayonnaise for Salad, Is also very popular |
| Calories | Salad cream calories are lower as compared to mayonnaise | Mayonnaise has higher calories and fats than salad cream  |
Salad vs. Mayonnaise pros and cons
Pros and cons of Salad cream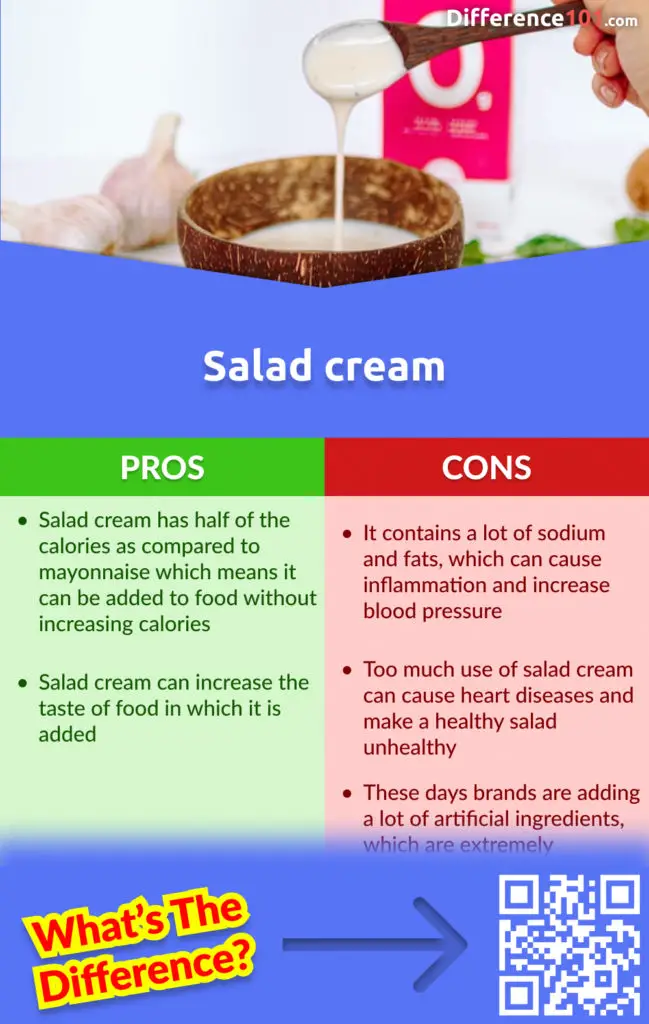 Pros of Salad cream
Salad cream has half of the calories as compared to mayonnaise which means it can be added to food without increasing calories.
Salad cream can increase the taste of food in which it is added.
Cons of Salad cream
It contains a lot of sodium and fats, which can cause inflammation and increase blood pressure.
Too much use of salad cream can cause heart diseases and make a healthy salad unhealthy.
These days brands are adding a lot of artificial ingredients, which are extremely.
Pros and cons of Mayonnaise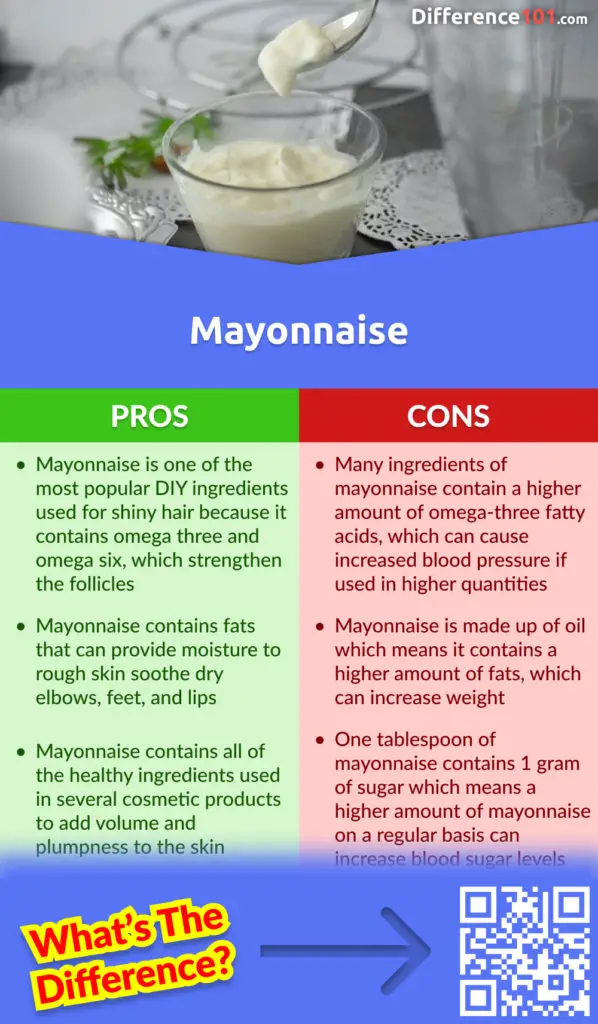 Pros of Mayonnaise
Mayonnaise is one of the most popular DIY ingredients used for shiny hair because it contains omega three and omega six, which strengthen the follicles.
Mayonnaise contains fats that can provide moisture to rough skin soothe dry elbows, feet, and lips.
 Mayonnaise contains all of the healthy ingredients used in several cosmetic products to add volume and plumpness to the skin.
Cons of Mayonnaise
 Many ingredients of mayonnaise contain a higher amount of omega-three fatty acids, which can cause increased blood pressure if used in higher quantities.
 Mayonnaise is made up of oil which means it contains a higher amount of fats, which can increase weight.
One tablespoon of mayonnaise contains 1 gram of sugar which means a higher amount of mayonnaise on a regular basis can increase blood sugar levels.
Comparison Chart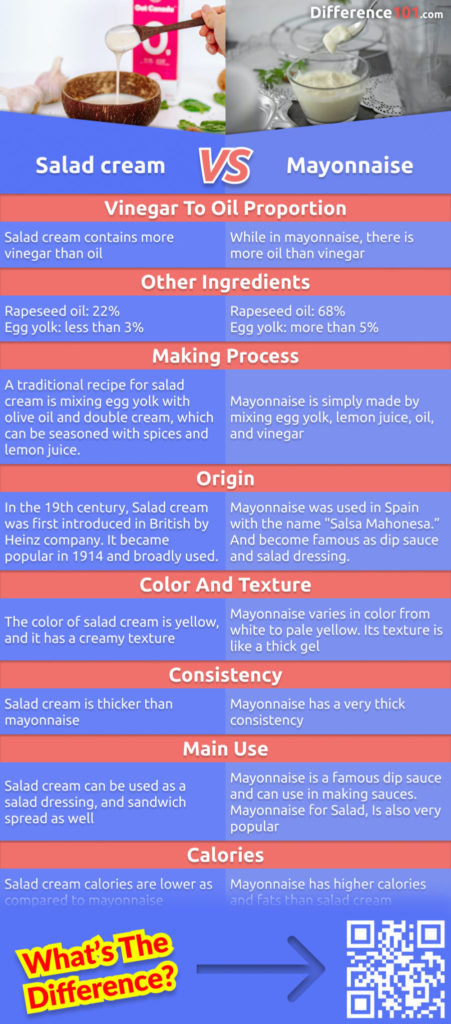 Comparison Video
Conclusion
Mayonnaise and salad cream both are very popular. Mayonnaise is thicker than salad cream and contains a larger amount of oil and egg yolk. Salad cream has lower fats as compared to mayonnaise and is used as a salad dressing. Mayonnaise is used as a dipping sauce. But mayonnaise in Salad is also very popular. Some of the Ingredients of salad cream are so similar to mayonnaise that they can be used as other replacements.
Salad cream vs. mayonnaise FAQs
What is in salad cream?
Salad cream is a creamy yellow-colored condiment made with oil, water, egg yolk, and vinegar.
Is there a difference between mayo and mayonnaise?
There is not any specific difference if we talk about mayo Vs. Mayonnaise. Because mayo is the short form of mayonnaise.
Is Salad dressing the same as mayonnaise?
No, these are not exactly the same. The main difference in mayonnaise Vs. Salad dressing is that mayonnaise is made up of egg yolk, oil, and vinegar, while salad dressing contains mayonnaise and other ingredients. Salad dressing is used for salads, but mayonnaise on Salad is also trending.
Is salad cream healthy?
Salad cream contains half of the calories as compared to mayonnaise. So using a small amount of salad cream instead of mayonnaise can be healthier and lower in calories.