Both RTIC and YETI are manufacturers of outdoor lifestyle products with YETI being the leader of the market. It is a premium brand developing high-quality products, whereas RTIC sells similar products for less. RTIC came a decade later in the market than YETI and targeted YETI customers by offering the same designs.
Analyzing RTIC vs. YETI meaning
What is RTIC?
RTIC is a company manufacturing and selling ice coolers and other outdoor gear. It was established in Houston, Texas, in the year 2013.
What is YETI?
Established in Austin, Texas, in the year 2006, YETI manufactures outdoor lifestyle products and accessories. It is the leader in the premium ice cooler market in the US.
Discussing the Pros and Cons of RTIC and YETI coolers
Pros of RTIC Coolers
The models offered are priced much cheaper than YETI's models.
They retain ice for a very long time if appropriately packed and under favorable conditions.
The models offer many additional features like rotomolded construction, tough latches, and integrated locking system.
The designs of RTIC coolers are built sleek, making you instantly fall in love with them.
Cons of RTIC Coolers
RTIC is unable to offer as high-quality coolers as YETI offers. Keeping the cost low might be the reason for this.
RTIC offers very limited cooler sizes as compared to YETI.
The warranty offered on RTIC coolers is too less.
Pros of YETI Coolers
YETI Coolers are built with premium quality and can stay with you forever.
The ice retaining capacity of many of the YETI models is excellent.
The company stands behind its products by offering a reasonable period of warranty.
Cons of YETI Coolers
These coolers are priced very high. The reason could be their premium quality.
RTIC and YETI Stories
RTIC entered the ice cooler business after getting inspired by YETI and started offering similar products at low prices. YETI filed a lawsuit against RTIC for copying its designs and won the case. RTIC was ordered by the court to change the design of its models. 
Listing RTIC vs. YETI Similarities 
Both RTIC and YETI manufacture ice coolers.
Both companies are based in Texas.
The designs offered by them strike a lot of similarities.
Bringing out RTIC vs. YETI Key Differences
Tumbler
Comparing the performance of RTIC and YETI mug, one cannot choose a winner. However, there is a vast difference in the price. You can buy an RTIC tumbler at less than half the price of a YETI tumbler.
Soft Coolers
RTIC manufactures flip-top soft-sided coolers, whereas YETI offers variety in the soft coolers segment as well. Along with the flip-top type coolers, YETI also offers handbag style soft coolers. 
Cups
The insulated cups offered by RTIC are available at an affordable price, whereas the ones provided by YETI are priced higher. Their quality and looks are quite similar. 
Bottle
RTIC bottles are a clear winner in terms of price as they can be bought at almost half of what a YETI bottle costs. But a YETI bottle seems to have higher quality than the other one. With twin seals, it remains leak-proof for a very long time. RTIC bottles, on the other hand, have a single seal that doesn't last long. 
What brand is better than YETI?
YETI is the leading cooler brand of the US. They are incredibly sturdy and are super-efficient. If anything, they have also earned a consistent customer rating of more than 4.5 out of 5. All these things prove that YETI itself is the best brand. 
What does RTIC stand for?
RTIC stands for nothing, i.e., it is not an acronym. Instead, it is a play word inspired by the word 'arctic'.
Who owns RTIC coolers?
Twin brothers John and Jim Jacobsen from Texas own RTIC Coolers. 
Why is RTIC cheaper than Yeti?
There are multiple reasons for RTIC coolers offering relatively lower prices than YETI. The first reason is that they save on marketing cost by relying on word of mouth publicity rather than hiring brand ambassadors. Secondly, they eliminate intermediaries by making direct sales to consumers. And lastly, they get their products manufactured overseas.
Is YETI better than RTIC?
Yes, they are believed to be better than RTIC coolers. Customers who have used both the brands hold YETI above RTIC in terms of efficiency. According to them, YETI's cooling lasts longer than RTIC.
Is RTIC Made in the USA?
No, RTIC is not Made in the USA, and the brand has declared this on its official website's FAQ section. 
Are RTIC coolers still in business?
Yes, since 2015, they have been in business. But instead of 'RTIC Coolers', nowadays, they operate under the brand name of 'RTIC Outdoors'.
Which cooler holds ice the longest?
It depends on which model of each brand you choose. For example, RTIC 45 can hold ice for five and a half days as compared to YETI's Tundra, which has a capacity of up to five days only.
Looking at RTIC and YETI comparison at a glance
| Basis | RTIC | YETI |
| --- | --- | --- |
| Quality | It offers products with moderate quality.  | It offers products with high quality.  |
| Established | It was established in 2013. | It was established in 2006.  |
| Price | It keeps the prices low. | It charges premium prices. |
| Sizes offered | It offers very limited sizes in its different models. | It offers a large number of choices in sizes. |
| Durability | The products are less durable. | The products are more durable. |
| Warranty | It offers a warranty on its products for a very less period. | It offers a warranty on its products for an extended period. |
Comparison Chart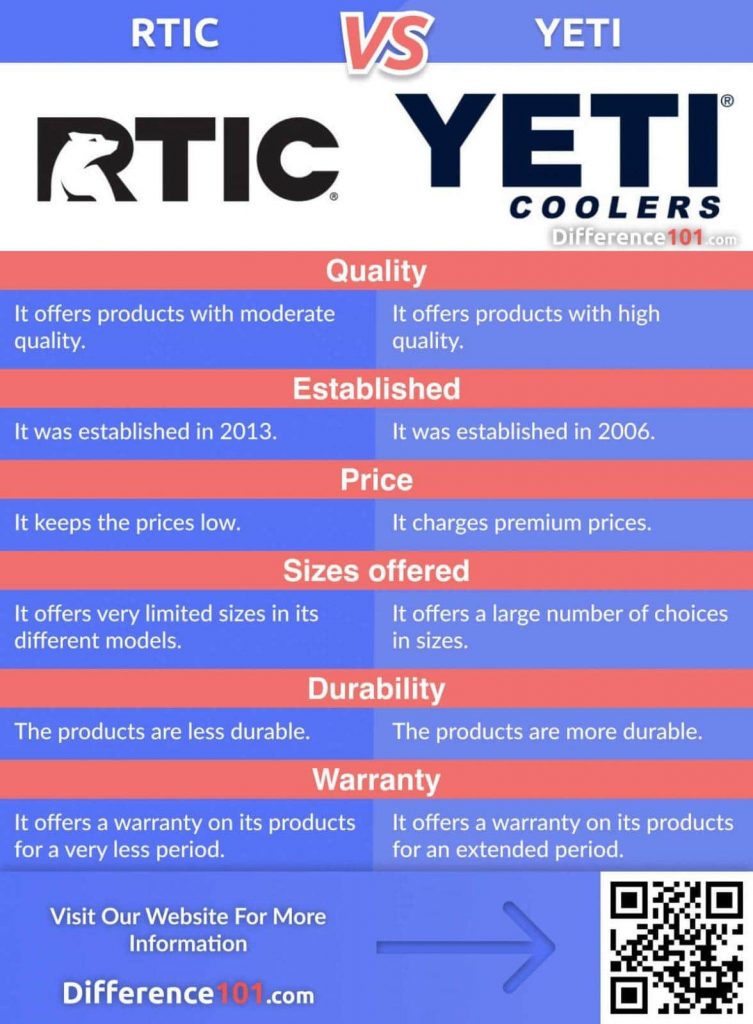 Comparison Video
Which cooler is better RTIC or Yeti?
Yeti coolers have been market leaders and a reputed name, courtesy their extremely high-quality products, whereas RTIC  coolers have been infamous for making low-quality coolers. The loosened handles and broken tumblers within a short span ultimately costs a consumer more by forcing him to either spend on repairs or get a new one.